Drinking with Men: A Memoir (Paperback)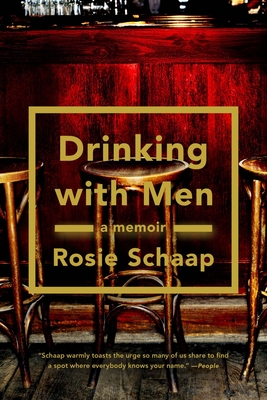 Staff Reviews
---
Perfect, of course, for reading at the bar -- but a warm and wise companion no matter where you belly up.
— Sam
Description
---
NPR "Best Books of 2013"
BookPage Best Books of 2013
Library Journal Best Books of 2013: Memoir
Flavorwire 10 Best Nonfiction Books of 2013

A vivid, funny, and poignant memoir that celebrates the distinct lure of the camaraderie and community one finds drinking in bars.

Rosie Schaap has always loved bars: the wood and brass and jukeboxes, the knowing bartenders, and especially the sometimes surprising but always comforting company of regulars. Starting with her misspent youth in the bar car of a regional railroad, where at fifteen she told commuters' fortunes in exchange for beer, and continuing today as she slings cocktails at a neighborhood joint in Brooklyn, Schaap has learned her way around both sides of a bar and come to realize how powerful the fellowship among regular patrons can be.

In Drinking with Men, Schaap shares her unending quest for the perfect local haunt, which takes her from a dive outside Los Angeles to a Dublin pub full of poets, and from small-town New England taverns to a character-filled bar in Manhattan's TriBeCa. Drinking alongside artists and expats, ironworkers and soccer fanatics, she finds these places offer a safe haven, a respite, and a place to feel most like herself. In rich, colorful prose, Schaap brings to life these seedy, warm, and wonderful rooms. Drinking with Men is a love letter to the bars, pubs, and taverns that have been Schaap's refuge, and a celebration of the uniquely civilizing source of community that is bar culture at its best.
About the Author
---
Rosie Schaap has been a bartender, a fortuneteller, a librarian at a paranormal society, an English teacher, an editor, a preacher, a community organizer, and a manager of homeless shelters. A contributor to This American Life and npr.org, she writes the "Drink" column for The New York Times Magazine. She was born in New York City and still lives there.
Praise For…
---
"Schaap brings a poet's touch to her memoir, which brims with insight and wisdom."
–Jimmy Breslin
"This book will be a classic. There is so much joy in this book! It's a great, comforting, wonderful, funny, inspiring, moving memoir about community and belief and the immense redemptive powers of alcohol drunk properly."
—Kate Christensen, author of In the Drink and The Great Man

"There are bar stories and there are coming-of-age stories. And then there is Rosie Schaap's thoughtful and funny chronicle that reminds us of all the drinks, dives, and deep conversations that helped make us who we are. This is a wise, engaging memoir."
—Wendy McClure, author of The Wilder Life and I'm Not the New Me

"Schaap warmly toasts the urge so many of us share to find a spot where everybody knows your name."
—People

"A witty homage to pubs and bars and the regulars who call them home."
—O Magazine 

"[Schaap] describes the unusual camaraderie among bar 'regulars' with poignant specificity. It's a cozy, intimate pleasure to go belly-to-bar with her."
—Entertainment Weekly

"With focused premise and expansive feeling... [and] very smart assessments of a mode of being that's not given the credit it deserves. 'Drinking With Men' would pair very well this time of year with a well-aged whiskey and a handful of peanuts."
—The Boston Globe

"A wonderfully funny and openhearted book from a generous, charismatic writer… [Schaap is] a born storyteller… There's no substitute for the kind of community you can find in a good tavern. And no American writer can explain it better than Rosie Schaap."
—NPR.org

"Rosie Schaap's New York Times column on the pleasures of drinking has always been—like the best bartenders—funny, smart, and slightly bawdy. This memoir is also all those things—and there's no hangover."
—W Magazine

"Beautifully rendered.
"—The Daily Beast

"Funny, smart-as-hell, moving."
—Salon 

"Witty…a vivid study of both Schaap's life in bars, often as one of the few women regulars, and a gimlet-eyed exploration of modern bar culture."
— Chicago Tribune

"[Schaap] has a way with words, writing about her experiences in the bars of her life in a heartfelt, honest, and relatable way. I would like to request a drink pairing with each chapter."
—The Atlantic Wire 

"Phenomenal… Schaap is an expert storyteller."
—Food & Wine

"Ms. Schaap has a gift for camaraderie—and excellent taste in booze."
—New York Observer 

"Pour yourself a double and let Schaap's writing amuse and enchant you."
—BookPage 

"Schaap is a gifted storyteller."
—Time Out Chicago

"Witty, compassionate…a meditation on learning how to drink well, wisely, and with eyes wide open…if you want an elegy to good bars and a stiff drink, Schaap has you covered."
—Full Stop

"Drinking With Men will have you raising a glass to its incomparable author and the great bar-stool stories she tells."
—Flavorwire.com (Best Nonfiction books of 2013)

"Lively … [Rosie Schaap] is an energetic and warm storyteller, and the book celebrates bar culture at its best."
—HowAboutWe.com

"A perfect book for the beach, plane or coffee table — and, most especially, for anyone who loves hanging out in bars but can't quite put their finger on why…[a] fun, honest memoir."
—NPR (Best Books of 2013)

"Beautifully composed…detailed and genuine…the stories just seem to tell themselves."
—Library Journal (Best Books of 2013)