The Sound of Things Falling (Hardcover)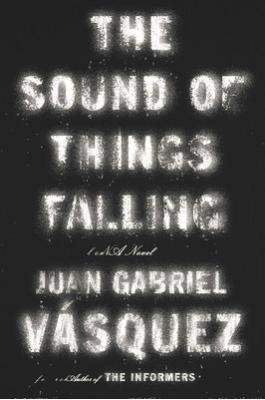 Unavailable, our apologies.
Sorry, We Can Not Obtain this Book at This Time
Description
---
* National Bestseller and winner of the 2014 International IMPAC Dublin Literary Award* Hailed by Edmund White as "a brilliant new novel" on the cover of the New York Times Book Review
* Lauded by Jonathan Franzen, E. L. Doctorow and many others
From a global literary star comes a prize-winning tour de force - an intimate portrayal of the drug wars in Colombia. Juan Gabriel Vasquez has been hailed not only as one of South America's greatest literary stars, but also as one of the most acclaimed writers of his generation. In this gorgeously wrought, award-winning novel, Vasquez confronts the history of his home country, Colombia.
In the city of Bogota, Antonio Yammara reads an article about a hippo that had escaped from a derelict zoo once owned by legendary Colombian drug kingpin Pablo Escobar. The article transports Antonio back to when the war between Escobar's Medellin cartel and government forces played out violently in Colombia's streets and in the skies above. Back then, Antonio witnessed a friend's murder, an event that haunts him still. As he investigates, he discovers the many ways in which his own life and his friend's family have been shaped by his country's recent violent past. His journey leads him all the way back to the 1960s and a world on the brink of change: a time before narco-trafficking trapped a whole generation in a living nightmare.
Vasquez is "one of the most original new voices of Latin American literature," according to Nobel Prize winner Mario Vargas Llosa, and The Sound of Things Falling is his most personal, most contemporary novel to date, a masterpiece that takes his writing--and will take his literary star--even higher.
About the Author
---
Juan Gabriel Vasquez's books include the 2014 International IMPAC Dublin Literary Award winner and national bestseller, The Sound of Things Falling, as well as the award-winning The Informers and The Secret History of Costaguana. Vasquez's novels have been published in seventeen languages worldwide. After sixteen years in France, Belgium, and Spain, he now lives in Bogota.
Praise For…
---
Praise for The Sound of Things Falling
 
"[A] Brilliant new novel...gripping...absorbing right to the end. The Sound of Things Falling may be a page turner, but it's also a deep meditation on fate and death." —Edmund White, The New York Times Book Review

"Deeply affecting and closely observed." —Hector Tobar, Los Angeles Times

"Like Bolaño, [Vasquez] is a master stylist and a virtuoso of patient pacing and intricate structure, and he uses the novel for much the same purpose that Bolaño did: to map the deep, cascading damage done to our world by greed and violence and to concede that even love can't repair it." —Lev Grossman, Time Magazine

"Juan Gabriel Vasquez is a considerable writer. The Sound of Things Falling is an artful, ruminative mystery... And the reader comes away haunted by its strong playing out of an irreversible fate." —E. L. Doctorow

"Compelling…genuine and magnificently written." —Library Journal, STARRED

"Literary magic of one of Latin America's most talented novelists…a masterpiece." —Booklist, STARRED

"An exploration in the ways in which stories profoundly impact our lives." —Publishers Weekly, STARRED
 
"Languid existential noir, one that may put you in mind of Paul Auster." —Dwight Garner, New York Times

"If you only read one book this month..." —Esquire

"Razor-sharp" —O, the Oprah Magazine
 
"An undoubted talent… Introspective and personal." —The Wall Street Journal

"It's noir raised to the level of art. It's a page-turner but it's also a profound meditation on fate and mortality." —2013 Premior Gregor von Rezzori Prize announcement

"Vásquez creates characters whose memories resonate powerfully across an ingeniously interlocking structure…Vásquez creates a compelling literary work—one where an engaging narrative envelops poignant memories of a fraught historical period." —The New Republic

"The Sound of Things Falling is a masterful chronicle of how the violence between the cartels and government forces spilled out to affect and corrode ordinary lives. It is also Vásquez's finest work to date….  His stark realism — the flip side of the magical variation of his compatriot Gabriel Garcia Marquez — together with his lyrical treatment of memory produces both an electrifying and a sobering read." —Malcolm Forbes, San Francisco Chronicle

"Haunting…Vasquez brilliantly and sensitively illuminates the intimate effects and whispers of life under siege, and the moral ambiguities that inform survival." – Cleveland Plain Dealer

"Moving… The novel presents the human toll exacted by the country's years of violence." – New York Observer 

"Quietly elegant… Vásquez is a resourceful storyteller. Scenes and dialogue shine with well-chosen details. His theme echoes compellingly through family parallels, ill-fated flights and even a recurring hippo motif. He shrugs off the long shadow of Gabriel Garcia Marquez with a gritty realism that has its own persuasive magic."  — Bloomberg News


Praise for Juan Gabriel Vasquez

"From the opening paragraph of The Informers, I felt myself under the spell of a masterful writer. Juan Gabriel Vásquez has many gifts—intelligence, wit, energy, a deep vein of feeling—but he uses them so naturally that soon enough one forgets one's amazement at his talents, and then the strange, beautiful sorcery of his tale takes hold." —Nicole Krauss

"Juan Gabriel Vásquez is one of the most original new voices of Latin American literature. His first novel, The Informers, a very powerful story about the shadowy years immediately following World War II, is testimony to the richness of his imagination as well as the subtlety and elegance of his prose." —Mario Vargas Llosa

"What Vásquez offers us, with great narrative skill, is that grey area of human actions and awareness where our capacity to make mistakes, betray, and conceal creates a chain reaction which condemns us to a world without satisfaction. Friends and enemies, wives and lovers, parents and children mix and mingle angrily, silently, blindly, while the novelist uses irony and ellipsis to unmask his characters' "self-protective strategies" and goes with them – not discovering them, simply accompanying them – as they come to understand that an unsatisfactory life can also be the life they inherit." —Carlos Fuentes

"For anyone who has read the entire works of Gabriel García Márquez and is in search of a new Colombian novelist, then Juan Gabriel Vásquez's The Informers is a thrilling new discovery." —Colm Tóibín

"A fine and frightening study of how the past preys upon the present, and an absorbing revelation of a little-known wing of the theatre of the Nazi war." —John Banville
 
 
Praise for The Informers

"[A] remarkable novel. It deals with big universal themes... It is the best work of literary fiction to come my way since 2005…and into the bargain it is immensely entertaining, with twists and turns of plot that yield great satisfaction." —Jonathan Yardley, The Washington Post

"One hallmark of a gifted novelist is the ability to see the potential for compelling fiction in an incident, anecdote or scrap of history, no matter how dry or seemingly obscure, that others have overlooked. By that standard and several others, the career of Juan Gabriel Vásquez…is off to a notable start.…[A] straight-ahead, old-fashioned narrative… Two years ago Mr. Vásquez was included on a list of the most 'important' Latin American writers under 40, nominated by more than 2,000 authors, literary agents, librarians, editors and critics. The Informers alone justifies their choice, given its challenging subject and psychological depth, but clearly there are bigger and even more intriguing things on the way." — Larry Rohter, The New York Times

"Chilling…The past is a shadow-bound, elusive creature in [The Informers]… When pursued it may flee, or, if cornered, it may unleash terrible truths." —Los Angeles Times

"To read The Informers is to enjoy the shock of new talent… [Vásquez's] novel is subtle, surprising and deeply pleasurable, with razors secreted among its pages." —The Cleveland Plain Dealer

"Compelling…The book combines a reflection on the delicate bonds of family, a journey through one of the few untold stories of World War II and even a look at the sometimes parasitic nature of the media… What sets The Informers, apart from other historical novels is Vasquez's questioning of his own role as muckraker and writer." —San Francisco Chronicle
 
"Dramatic and surprising…" —Harper's Magazine

"Unlike anything written by his Latin American contemporaries. If there is any prevailing influence in this chilling work, it is in the late German writer, W.G. Sebald…The Informers deserves to be read…[O]ne of this year's outstanding books." —The Financial Times

"Masterful…Vásquez has much in common with Roberto Bolaño…. But unlike Bolaño's stolid, serviceable prose, Vásquez's style is musical, occasionally even lush, and its poeticism remains unmuddled in McLean's translation." —Bookforum
 
 
Praise for The Secret History of Costaguana
 
"An intricately detailed, audacious reframing of Nostromo, the classic 1904 Joseph Conrad tale of power, corruption, intrigue and revolution in a South American country he called Costaguana. The Secret History of Costaguana is a potent mixture of history, fiction and literary gamesmanship. Vásquez's themes are of the moment: powerful countries (the U.S. foremost among them) dabbling in Latin American politics, bribing politicians and journalists, trolling for profits; European writers appropriating history for their own tales. His particular triumph with this novel is to remind us, as Balzac put it, that novels can be 'the private histories of nations.'"—Los Angeles Times

"[An] exceptional new novel…When Mr. Vásquez, like Conrad, focuses on the individuals trapped in these national tragicomedies, he displays a keen emotional and moral awareness. The Secret History of Costaguana is a cunning tribute to a classic, but it also stands on its own merits as a dense and involving story about men who are either manipulating history or finding themselves at the barrel-end of it." —Wall Street Journal

[A] post-modern literary revenge story." —The New York Times
 
 
Coverage from NPR