Mo Said She Was Quirky: A Novel (Paperback)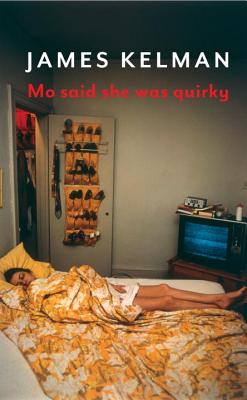 Unavailable, our apologies.
Sorry, We Can Not Obtain this Book at This Time
Description
---
James Kelman, the Man Booker Prize–winning author of How Late It Was, How Late, tells the story of Helen—a sister, a mother, a daughter—a very ordinary young woman. Her boyfriend said she was quirky but she is much more than that. Trust, love, relationships; parents, children, lovers; death, wealth, home: these are the ordinary parts of the everyday that become extraordinary when you think of them as Helen does, each waking hour. Mo Said She Was Quirky begins on Helen's way home from work, with the strangest of moments when a skinny, down-at-heel man crosses the road in front of her and appears to be her lost brother. What follows is an inspired and absorbing story of twenty-four hours in the life of a young woman.
About the Author
---
James Kelman was born in Glasgow in 1946, left school at the earliest opportunity, and began working life in a factory aged 15. Emigrated with his family to California in 1963, returned to Scotland 1964. Kelman has worked at a variety of jobs ever since. He began writing while living in London aged twenty two and later met Texan writer Mary Gray Hughes. With her support his debut story collection, An Old Pub Near The Angel was published by Puckerbrush Press, Maine, in 1973.  His fourth novel, How Late It Was, How Late, won the Booker Prize in 1994. His recent publications include story collections Busted Scotch and If it is your life; and novels, You have to be careful in the Land of the Free, Translated Accounts, and Kieron Smith, boy. Kelman has taught at the University of Texas in Austin, and San José State University, California. He and his wife live in Scotland, not far from their two daughters and two grandchildren.
Praise For…
---
"A marvelous achievement, restrained and deeply moving."—
Booklist

"
Mo said she was quirky
is an unassuming book that achieves a terrible grandeur.  James Kelman gives us, in his compelling narrator Helen,  a guide through the rough life of those who live with poverty, racism, doubt, and—in spite of it all—hope.   This compassionate, humane novel comes as close to creating life—writ both large and small—as is possible in literature."—Sabina Murray, author of
Tales of the New World
and winner of the Pen/Faulkner Award for Fiction
"Mo said she was quirky
is a brave, compassionate book, and Kelman is a singular and unique talent. I know of no other writer who conveys as accurately the rhythms and experience of everyday life.  This is one of his best books."—Shannon Burke, author of
Black Flies
"A bracing stream-of-consciousness tale of life on London's lower rungs from the veteran Scottish novelist and Booker Prize winner...a gritty and wise snapshot of urban life."—
Kirkus


"[Helen's] perceptions are sharp, sweet, clever, mundane, startling, witty, poignant and humane – it's reminiscent of Molly Bloom's soliloquy in Ulysses, but more fun to read."—
Independent
(UK)
"
Mo Said She Was Quirky
is a powerful and understated stream of consciousness tale that explores important themes of gender, class, and race."—
Largehearted Boy

"It [is] beautiful, the whole book. Helen is one woman representing so many other women..."—
Paper Blog


"Virginia Woolf's and James Joyce's studies of characters' inner ramblings are a Modernist artifact for plenty of writers and readers today. But for Kelman, they remain a useful way to explore the depths of people often considered outsiders."—
Kirkus


"With
Mo said she was Quirky
, Kelman answers his character's question: because we learn about our own life by reading about the life of others."—
The Coffin Factory


"Kelman's latest novel slides easily between scene and free indirect rumination, combining ambitious psychological breadth with the necessary authorial restraint to fully inhabit the mind of Helen"—
Publishers Weekly

"
Final exam question: Who's the best writer you've never heard of? It's not James Salter any more but the Scottish author James Kelman."—
On the Town

"
This is a fascinating character study of a Scottish woman trying to keep from drowning though she wants to give up but others depend on her so she keeps treading."—
Genre Go Round Reviews


"Plunging into a novel by James Kelman is like diving head-first into a chilly lake. It's a shock to your system at first, and a bit disorienting, but the trick is to keep moving. Once your muscles get warmed up and you get your bearings, the experience is exhilarating."—The Baltimore Sun

"Kelman masters poetic stream of consciousness with bleak but sometimes tender images, tugging at the bonds of blood versus the families we choose to make for ourselves. The author expertly explores how far we will go for those we love, even if they've already been lost to us for years, and what happens when the past we have run so far from seeps regardless into our present."—Interview Magazine

"...a fascinating character study..."—Midwest Book Review

"...here's hoping this restless and inventive novel raises [Kelman's] profile stateside."—The New York Times Book Review