Miss Fuller: A Novel (Paperback)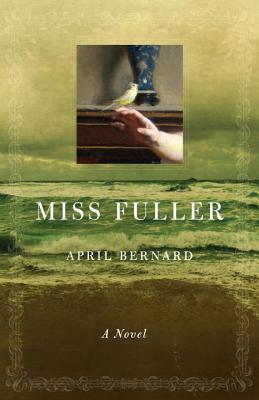 Unavailable, our apologies.
Sorry, We Can Not Obtain this Book at This Time
July 2012 Indie Next List
---
"One of the great things fiction can do is pluck a historical figure from obscurity and introduce her to a new audience. April Bernard accomplishes this with flying colors when she give Margaret Fuller, a 19th century transcendentalist and feminist, posthumous life, and modern readers are richer for her efforts."
— Emily Crowe, Odyssey Bookshop, South Hadley, MA
Description
---
She was the most famous woman in America. And nobody knew who she was.

     It is 1850. Margaret Fuller--feminist, journalist, orator, and "the most famous woman in America"--is returning from Europe where she covered the Italian revolution for The New York Tribune. She is bringing home with her an Italian husband, the Count Ossoli, and their two-year-old son. But this is not the gala return of a beloved American heroine. This is a furtive, impoverished return under a cloud of suspicion and controversy. When the ship founders in a hurricane off Long Island and Fuller and her small family drown, her friends back home, Emerson and others of the Transcendentalist Concord circle, send Henry David Thoreau to the wreck in hopes of recovering her last book manuscript. He comes back declaring himself empty-handed--but actually he has found a private and revealing document, a confession in letters, of a strong and beloved woman's life like no other in the 19th century. Her account of the life of the mind and body, of experiences in Rome under siege, of dangerous childbirth and great physical and moral courage--are eventually revealed to her one reader, Thoreau's youngest sister, Anne.

    What does one sensitive but ordinary woman makes of a publicly disgraced woman like Fuller, and how do women make use of what they learn from other women? Miss Fuller is a historical novel that also poses timeless questions about how we see and treat the exceptional and dangerous agents of change among us. And it shows the price that any one person might pay, who strives to change the world for the better.
About the Author
---
April Bernard is a novelist, poet, and essayist. Her first novel, Pirate Jenny, was published in 1990; her most recent collection of poems is Romanticism (W.W. Norton, June 2009). Her previous poetry collections are Blackbird Bye Bye, Psalms, and Swan Electric. Her work has appeared in numerous journals, including The New York Review of Books, The New Yorker, The New York Times Book Review, The New Republic, The Nation, and Slate. She has taught widely and was for many years a magazine and book editor in New York City. Her honors include a Guggenheim award, the Walt Whitman Award from the Academy of American Poets, a Whitney Humanities Fellowship at Yale University, a Sidney Harman Fellowship, and the Stover Prize. She joined the English Department faculty at Skidmore in 2009 as Director of Creative Writing and is also on the faculty of the Bennington MFA Writing Seminars. The author lives in Saratoga Springs, NY.
Praise For…
---
An Indie Next Selection

"This is a perfect read for book clubs or humanities classes: spare, elegant, and with a wealth of potential material for discussion." -- Historical Novel Society

If you only have room for one small book in your picnic basket or your carry-on luggage for that flight to the beach, you might want to make it Miss Fuller by April Bernard, a slender, haunting historical novel about the life and death of 19th century feminist pioneer Margaret Fuller, literary colleague of Henry David Thoreau and Ralph Waldo Emerson. Every word in this too-brief wonder of a book is just right: precise, luminous, evocative. – Julia Keller in the Chicago Tribune


"Recent biographers have plumbed Fuller's life, teeming with incidents and arresting personalities . . . but their endeavors lack the spare elegance of April Bernard's novel." –  Minneapolis Star-Tribune

"In simplest terms, the question with any book review is 'should I read this book? Is it worth my time?' The answer: yes! The question might go a little deeper. Does this book do something for me? Again, yes! April Bernard's Miss Fuller is a must-read if you're a fan of historical fiction, a lover of beautifully printed small format novels with gorgeous cover design, or if you're interested in early American writers like Hawthorne, Thoreau, Emerson, and of course the controversial early feminist, Margaret Fuller. If your interests are exclusively in structure and story arcs, this novel's a gem." – Nancy Freund at Necessary Fiction

"This is the best kind of historical fiction. . . . Miss Fuller is a rich insight into the intellectual camaraderie and competition among the Transcendentalists. The story fairly bursts from the pressure of the early feminists striving to be heard at home, abroad, and in the hallowed halls of academia. . . . In many ways, this is the most robust portrait we have of Fuller because Bernard uses fiction to fill in the gaps between Fuller's own words and the perceptions of others that history has tossed us."
– Susan Salter Reynolds in Los Angeles Review of Books

"An intense, fascinating jewel of a novel . . . I can't tell you how much I love this book." –  Carolyn See in The Washington Post

"A warmly sympathetic leap into the psychology of a compelling iconoclast. . . . These are the chambers of conjecture into which biographers are not permitted; Ms. Bernard enters them with sensitivity and brio." – The Wall Street Journal

"Bernard weaves a fascinating novel."  – The Boston Globe

"Poet and novelist [April] Bernard takes an unusual approach to historical fiction in this supple and concentrated tale. . . . Bernard's elegant, witty, vivid, and tragic portrait reclaims a vilified yet revered and influential thinker and visionary." – Booklist

"Fact meets fiction in this intriguing historical novel expounding on the life and times of Margaret Fuller, a freethinking feminist writer and friend of Emerson and Thoreau, among others, on the Concord scene. In poet Bernard's rendering, readers have an additional lens in Anne, a fictionalized sister of Thoreau's, who, in her youth, attends one of Fuller's Boston salons for ladies and then, later in life, becomes privy to a 'lost letter' written from the ship that would have returned Fuller from Europe to the States had it not sunk off Fire Island, killing Fuller, her Italian husband, and their young son. . . . Though Fuller's untimely death was marked by sadness, it is the widespread relief evocatively etched in these pages that startles: no one knew what to make of this outspoken woman of dubious virtue, and a mother at that, leaving even the most progressive minds of the time to wonder if her tragic end wasn't something of a blessing after all." – Publishers Weekly

"A letter from one woman to another washes ashore. This letter details the adventurous, fantastic, revolutionary life of Margaret Fuller. But will her words unite or divide? Will anyone read her letter at all? . . . Bernard skillfully contrasts the public and private sides of Fuller, crafting a book with rich imagery, emotional depth and a poetic rhythm." – ­Kirkus Reviews

"Highly recommended for those interested in the life of Margaret Fuller and for those who like feminist literature such as Kate Chopin's The Awakening." – Library Journal

"With beguiling intimacy and unparalleled eloquence, April Bernard recreates Margaret Fuller's tumultuous last years. Her account of the secret life of this very public woman is both painfully specific to women's lives at that time and yet wonderfully universal.  Fuller emerges from these pages in all her glorious complexity, as do the other transcendentalists who so reluctantly admitted her to their company.  An absorbing and, finally, heartrending novel." – Margot Livesey, author of Eva Moves the Furniture and The House on Fortune Street

"Miss Fuller is heartrending and utterly convincing, an aria and elegy for one of the great tragic souls of American literature. And what a dream cast April Bernard has assembled from Fuller's cosmopolitan wanderings: Henry Thoreau and his sister; the Hawthornes; George Sand; Mazzini; the great Polish poet Miczkiewicz. Bernard herself is a poet of extraordinary reach and panache. 'Where is our promised wind?' Fuller asks. 'Impatience is our companion.' – Christopher Benfey, author of A Summer of Hummingbirds and Degas in New Orleans


"April Bernard makes Margaret Fuller as likable and difficult, as inspiring and sad, as she must have seemed to her contemporaries, who were shocked by her revolutionary ideas and unorthodox life.  Original, brilliant, and moving, Miss Fuller meditates ruefully on the awkwardness of genius, especially if one were a nineteenth-century woman." – Alice Mattison, author of The Book Borrower

"A beautifully written and constructed gem of a novel that totally absorbed me into its world." – Caryl Phillips, author of Crossing the River