Burn the Place: A Memoir (Hardcover)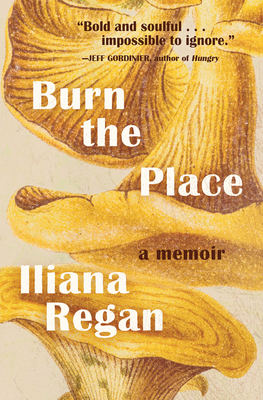 Staff Reviews
---
Iliana Regan is the self-taught Michelin-starred chef of the restaurant Elizabeth, named for her beloved sister whose tragic death shocked her into turning her own life around. But this is not a born-again saga marked by clean edges, evil misogynistic villains and righteous loving saviors. It is a raw, acid-edged, brutally honest tale of growing up gay on an Indiana farm to loving religious Christians who teach her to honor the wilderness and forage the forests for ingredients to prepare meals as wild as her imagination. Shy and awkward, Iliana turned to alcohol and cocaine for ballast, Her addictions to drugs and sex almost killed her, but her sister's tragic end forced her to focus her propulsive energy on creating a world of food to honor all that she loves. Sure, she goes to AA meetings and works her tail off, but the heart of of this jagged, powerful memoir is her continuing struggle to overcome the demons of her own creation.
— Cheryl
Description
---
LONGLISTED FOR THE 2019 NATIONAL BOOK AWARD A singular, powerfully expressive debut memoir that traces one chef's struggle to find her place and what happens once she does. Burn the Place is a galvanizing memoir that chronicles Iliana Regan's journey from foraging on the family farm to running her Michelin-starred restaurant, Elizabeth. Her story is raw like that first bite of wild onion, alive with startling imagery, and told with uncommon emotional power. Regan grew up the youngest of four headstrong girls on a small farm in Northwest Indiana. While gathering raspberries as a toddler, Regan preternaturally understood to pick just the ripe fruit and leave the rest for another day. In the family's leaf-strewn fields, the orange flutes of chanterelles beckoned her while they eluded others. Regan has had this intense, almost otherworldly connection with food and the earth it comes from since her childhood, but connecting with people has always been more difficult. She was a little girl who longed to be a boy, gay in an intolerant community, an alcoholic before she turned twenty, and a woman in an industry dominated by men--she often felt she "wasn't made for this world," and as far as she could tell, the world tended to agree. But as she learned to cook in her childhood farmhouse, got her first restaurant job at age fifteen, taught herself cutting-edge cuisine while running a "new gatherer" underground supper club, and worked her way from front-of-house staff to running her own kitchen, Regan found that food could help her navigate the strangeness of the world around her. Regan cooks with instinct, memory, and an emotional connection to her ingredients that can't be taught. Written from that same place of instinct and emotion, Burn the Place tells Regan's story in raw and vivid prose and brings readers into a world--from the Indiana woods to elite Chicago kitchens--that is entirely original and unforgettable.
About the Author
---
Iliana Regan is a self-taught chef. She is the founder and owner of the Michelin-starred "new gatherer" restaurant Elizabeth and the Japanese-inspired pub Kitsune, both located in Chicago. Her cuisine highlights her midwestern roots and the pure flavor of the often foraged ingredients of her upbringing. A James Beard Award and Jean Banchet Award nominee, Regan was named one of Food & Wine's Best New Chefs 2016.