When Death Takes Something from You Give It Back: Carl's Book (Hardcover)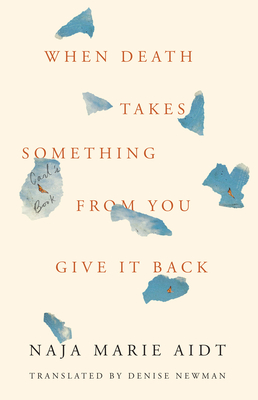 Staff Reviews
---
New York-residing Danish writer Naja Marie Aidt was home in Copenhagen visiting family when she learned her 25-year-old son had taken mushrooms, had a bad trip, and thrown himself out a window. He died. This is her book about losing her son. Aidt writes this book in fragments, because grief itself is fragmented. She uses repetition and grammar like a poet, because grief, like ghosts, are constantly repeating , happening back upon themselves, defying langauge and rational thought. This is a book in the vein of Maggie Nelson and Anne Carson, about greif in its most naked, feverish form.
— Madeleine
Description
---
Longlisted for the 2019 National Book Award for Translation
In March 2015, Naja Marie Aidt's twenty-five-year-old son, Carl, died in a tragic accident. When Death Takes Something from You Give It Back chronicles the few first years after that devastating phone call. It is at once a sober account of life after losing a child and an exploration of the language of poetry, loss, and love.
Intensely moving, When Death Takes Something from You Give It Back explores what is it to be a family, what it is to love and lose, and what it is to treasure life in spite of death's indomitable resolve.
About the Author
---
Naja Marie Aidt was born in Greenland and raised in Copenhagen. She is the author of eleven collections of poetry, a novel, and three short story collections, including Baboon, which won the 2008 Nordic Council Literature Prize, Scandinavia's highest literary honor. Her work has been translated into sixteen languages. Denise Newman is a translator and poet who has published four collections of poetry. She has translated two books by Denmark's Inger Christensen. Her translation of Naja Marie Aidt's short story collection Baboon won the 2015 PEN Translation Prize.