Erasure: A Novel (Paperback)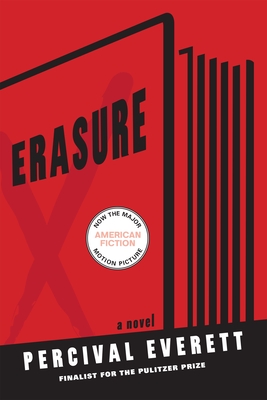 Staff Reviews
---
When Dave Chappelle quit/ended his eponymous program back in 2006, he said he did so because he noticed certain people laughing at the sketches in a manner unsettling—taking the surface caricature as the end of the analysis. In Erasure we follow the whole process of frustrated novelist Thelonius "Monk" Ellison crafting a satire that no one understands, yet everyone laughs.
— Tilghman
Description
---
Percival Everett's blistering satire about race and writing, available again in paperback

Thelonious "Monk" Ellison's writing career has bottomed out: his latest manuscript has been rejected by seventeen publishers, which stings all the more because his previous novels have been "critically acclaimed." He seethes on the sidelines of the literary establishment as he watches the meteoric success of We's Lives in Da Ghetto, a first novel by a woman who once visited "some relatives in Harlem for a couple of days." Meanwhile, Monk struggles with real family tragedies—his aged mother is fast succumbing to Alzheimer's, and he still grapples with the reverberations of his father's suicide seven years before.

In his rage and despair, Monk dashes off a novel meant to be an indictment of Juanita Mae Jenkins's bestseller. He doesn't intend for My Pafology to be published, let alone taken seriously, but it is—under the pseudonym Stagg R. Leigh—and soon it becomes the Next Big Thing. How Monk deals with the personal and professional fallout galvanizes this audacious, hysterical, and quietly devastating novel.
About the Author
---
Percival Everett is the author of more than twenty books. He is the recipient of the Hurston/Wright Legacy Award and the PEN Center USA Award for Fiction. He teaches at the University of Southern California and lives outside Los Angeles.
Praise For…
---
"Erasure is as watertight and hilarious a satire as, say, [Evelyn Waugh's] Scoop . . . [Everett] is a first-rate word wrangler." —Nicholas Lezard, The Guardian

"With equal measures of sympathy and satire, [Erasure] craftily addresses the highly charged issue of being 'black enough' in America." —Jenifer Berman, The New York Times Book Review

"An over-the-top masterpiece. . . . Percival's talent is multifaceted, sparked by a satiric brilliance that could place him alongside Wright and Ellison as he skewers the conventions of racial and political correctness." —Publishers Weekly

"A scathingly funny look at racism and the book business: editors, publishers, readers, and writers alike." —Booklist

"More genuine and tender than much of Everett's previous work, but no less impressive intellectually: a high point in an already substantial literary career." —Kirkus Reviews

"The sharp satire on American publishers and American readers that Everett puts forward is delicious, though it won't win him many friends among the sentimental educated class who want to read something serious about black inner-city life without disturbing any of their stereotypes." —Chicago Tribune