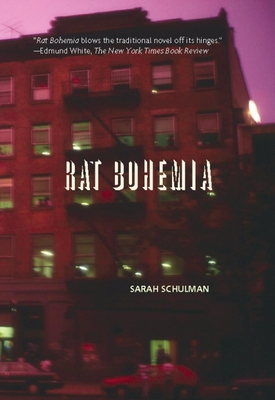 $17.95
On Our Shelves Now - Available to Ship to Your Home
Staff Reviews
---
Queers, writers, and rat-killers in AIDS-era NYC do their best to survive together and communicate their experience to outsiders. It feels so real and right and true and Schulman herself lived through it all which must be part of why this book is so alive in spite of all its deaths. Her ear and mind are prone to beautiful, funny, and cogent lines. You'll need a pencil.
— Landon
Description
---
"More persuasively than any other contemporary novelist, Sarah Schulman traces the ways in which the disenfranchisement that begins as a political evil pervades every aspect of life, from the metaphysical and spiritual to the most intimate moments of two people together."--Tony Kushner
"My surrender to Rat Bohemia is a testimonial to its gimlet-eyed accuracy, its zero-degree honesty. . . . It blows] the traditional novel off its hinges."--Edmund White, The New York Times Book Review
First published in 1995, this award-winning novel is a bold, achingly honest story set in the "rat bohemia" of New York City, whose huddled masses include gay men and lesbians abandoned by their families and forced to find new bonds with one another in the wake of this loss. Navigating the currents of the city are three friends: Rita Mae, a rat exterminator; Killer, a career plant-waterer; and David, an HIV-positive writer. Together, they seek new ways to be truthful and honest about their lives as others around them avert their glances. Alternately elegiac, defiant, and funny, Rat Bohemia is an expansive novel about how one can cope with loss and heal the wounds of the past by reinventing oneself in the city.
Rat Bohemia won the Ferro-Grumley Award for Lesbian Fiction and was named one of the "100 Best Gay and Lesbian Novels of All Time" by the Publishing Triangle.
Sarah Schulman is the author of eleven books, including the novel The Child (2006). She lives in New York.
About the Author
---
Sarah Schulman is the author of eleven previous books, including eight novels, the latest being The Child (2006). As a journalist, her essays have appeared in The New York Times, The Nation, and Interview. She has won a Guggenheim Fellowship and two American Library Association Gay & Lesbian Book Awards. She lives in New York.