I Would Die 4 U: Why Prince Became an Icon (MP3 CD)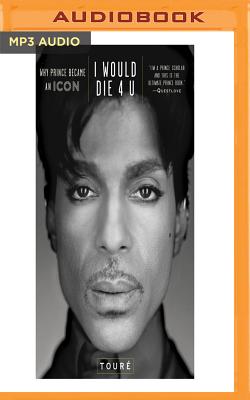 Unavailable, our apologies.
Sorry, We Can Not Obtain this Book at This Time
Staff Reviews
---
Though I was never a huge fan of Touré's work, he has hit the jackpot here with a true love of a subject he knows very well. Evolved from a series of lectures at Harvard, this is Prince as icon, as emissary of God, religion, sex, ego, brilliance. This is the psyche and soul of a musician at war with himself and an era.
— Douglas
Description
---
Celebrated journalist, TV personality, and award-winning author Toure investigates one of the most enigmatic and fascinating figures in contemporary American culture: Prince.
Drawing on new research and enlivened by Toure's unique pop-cultural fluency, I Would Die 4 U relies on surprising and in-depth interviews with Prince's band members, former girlfriends, musicologists, and even Bible scholars to deconstruct the artist's life and work.
Prince's baby boomer status allowed him to play a wise older brother to the latchkey kids of Generation X. Defying traditional categories of race, gender, and sexuality, he nonetheless presented a very traditional conception of religion and God in his music. He was an MTV megastar and a religious evangelist, using images of sex and profanity to invite us into a musical conversation about the healing power of God. By demystifying the man and his music, I Would Die 4 U shows us how Prince defined a generation.