A Field Guide to Getting Lost (MP3 CD)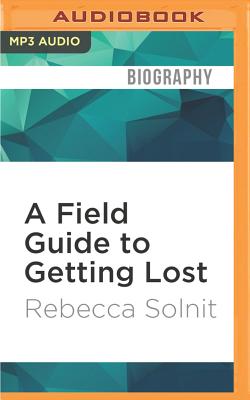 Unavailable, our apologies.
Sorry, We Can Not Obtain this Book at This Time
Staff Reviews
---
Rebecca Solnit will force you to reconsider what an essay can do. Her writing in this collection is frighteningly clever and moves from Hitchcock to women's underwear to snakes to Yves Klein Blue with effortless ease, mirroring the circuitous, tangential way we speak and think (or at least the way I speak and think) in a way which is deeply comforting. This is the book I have given as a gift most often, and which I return to whenever I feel like the world and I aren't on speaking terms.
— Madeleine
Description
---
Whether she is contemplating the history of walking as a cultural and political experience over the past 200 years (Wanderlust), or using the life of photographer Eadweard Muybridge as a lens to discuss the transformations of space and time in late 19th-century America (River of Shadows), Rebecca Solnit has emerged as an inventive and original writer whose mind is daring in the connections it makes. A Field Guide to Getting Lost draws on emblematic moments and relationships in Solnit's own life to explore issues of wandering, being lost, and the uses of the unknown. The result is a distinctive, stimulating, and poignant voyage of discovery.