Under the Bridge (Paperback)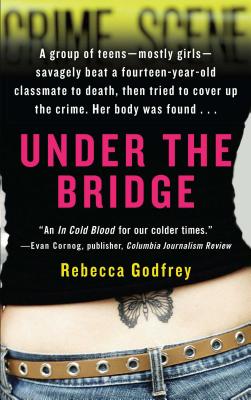 Unavailable, our apologies.
Staff Reviews
---
A beautiful piece of literary crime reporting, Under The Bridge is one of the best true crime books I have ever encoutered. Begun when Godrey was twenty-seven and still finishing her first novel, Under the Bridge tells the story of a murder that took place in the Canadian island town of Victoria during the autumn of 1997. Reena Virk, a fourteen year old girl, was beaten to death by a group of her peers under a bridge, and then drowned by two of the teenagers in the water. All but one of those involved were girls. A stunning narrative touching on the violence of young women, this book was before its time, and this reissue is well overdue.
— Madeleine
Under the Bridge reads like a high school yearbook, and feels as familiar and horrifying as flipping through your own. Sure, kids can be killers; but as the crime and consequences are slowly revealed, Godfrey never lets you forget they're still kids. Among the best literary true crime there is.
— Bekah
Description
---
Who were the seemingly ordinary teenagers who beat and killed a girl who longed to be their friend? And how could they hide the murder from their parents and teachers and the police for eight days?

Drawing on six years of research -- including interviews with the accused -- acclaimed writer Rebecca Godfrey answers these questions in this stunning account of the notorious "Schoolgirl Murder." Through a skillful blend of hard journalism and riveting narrative, Godfrey takes us into the bedrooms and classrooms of a powerful hip-hop-obsessed clique and the loner-victim who just wanted to belong, then into the police stations and courtrooms where adults -- grieving, devastated -- must reckon with the shocking crime. Highlighting along the way the deeply entrenched social tensions that provoked the murder, Under the Bridge is more than a true-crime book -- it is an unforgettable wake-up call.
About the Author
---
Rebecca Godfrey is an award-winning novelist and journalist. Her first novel, The Torn Skirt, was a national bestseller and a finalist for the Ethel Wilson Fiction Prize. Under The Bridge received one of Canada's largest literary awards, the British Columbia Award for Canadian Nonfiction, as well as the Arthur Ellis Award for Excellence in Crime Writing. She holds an MFA from Sarah Lawrence College, and has received fellowships from Yaddo and The MacDowell Colony. In 2016, she edited and curated the multimedia exhibition, Girls In Trees. She teaches writing at Columbia University, and lives with her family in upstate New York.