Citizen: An American Lyric (MP3 CD)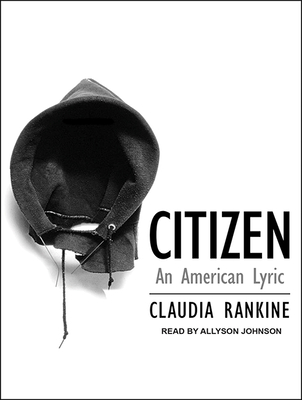 Unavailable, our apologies.
Sorry, We Can Not Obtain this Book at This Time
Staff Reviews
---
*** Due to increased demand, this title is on backorder and may arrive slower than usual. ***
Searing, brilliant, true: Poetry and essay conjoined at the heart. Threaded through with powerful art by Carrie Mae Weems, Wangechi Mutu, John Lucas, and others, Citizen becomes artifact and evidence as Rankineconfronts the trope of racial invisibility imbedded in our "shared" history, language, and culture. Whether channeling the broken voices of Hurricane Katrina survivors, or unpacking the ubiquitous, casual racism of white "peers," there's a pervasive sense of incredulity, always and forever choked by reality: "Did I hear what I think I heard? Did that just come out of my mouth, his mouth, your mouth?" Rankine realizes, "The world is wrong. You can't put the past behind you. It's buried in you; it's turned your flesh into its own cupboard." Despite being embalmed in an acid bath of racism, we fugitive citizens stumble on.
— Yvonne
Description
---
Claudia Rankine's bold new book recounts mounting racial aggressions in ongoing encounters in twenty-first-century daily life and in the media. Some of these encounters are slights, seeming slips of the tongue, and some are intentional offensives in the classroom, at the supermarket, at home, on the tennis court with Serena Williams and the soccer field with Zinedine Zidane, online, on TV-everywhere, all the time. The accumulative stresses come to bear on a person's ability to speak, perform, and stay alive. Our addressability is tied to the state of our belonging, Rankine argues, as are our assumptions and expectations of citizenship.