Leg Over Leg: Volumes Three and Four (Library of Arabic Literature #9) (Abridged / Paperback)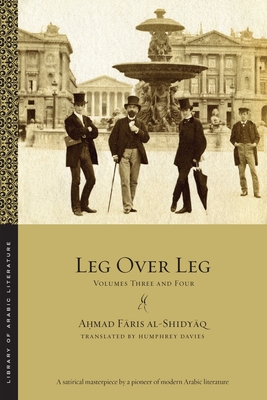 $18.00
Not On Our Shelves - Available to Order
Other Books in Series
This is book number 9 in the Library of Arabic Literature series.
Description
---
Leg over Leg recounts the life, from birth to middle age, of "the Fariyaq," alter ego of Ahmad Faris al-Shidyaq, a pivotal figure in the intellectual and literary history of the modern Arab world. The always edifying and often hilarious adventures of the Fariyaq, as he moves from his native Lebanon to Egypt, Malta, Tunis, England, and France, provide the author with grist for wide-ranging discussions of the intellectual and social issues of his time, including the ignorance and corruption of the Lebanese religious and secular establishments, freedom of conscience, women's rights, sexual relationships between men and women, the manners and customs of Europeans and Middle Easterners, and the differences between contemporary European and Arabic literatures, all the while celebrating the genius and beauty of the classical Arabic language.
Volumes Three and Four see the peripatetic Fariyaq fall in love and convert to Catholicism for twenty-four hours in order to marry. Although the narrative revolves around a series of debates over the nature of male-female relationships, opportunities also arise for disquisitions on the physical and moral significance of such diverse topics as the buttocks, the unreliability of virginity tests, and the human capacity for self-delusion. Lengthy stays in England and France allow for animadversions on the table manners and sexual aberrations of their citizens, but the discussion, whether it involve dance-halls, pleasure gardens, or poetry, almost always ends up returning to gender relations. Akin to Sterne and Rabelais in his satirical outlook and technical inventiveness, al-Shidyaq produced in
Leg over Leg
a work that is unique and unclassifiable. It was initially widely condemned for its attacks on authority, its religious skepticism, and its "obscenity," and later editions were often abridged. This is the first complete English translation of this groundbreaking work. An English-only edition.
About the Author
---
Ahmad Faris al-Shidyaq (1805 or 1806-1887) was a foundational figure in modern Arabic literature. Born to a prominent Maronite family in Lebanon, al-Shidyaq was a pioneering publisher, poet, essayist, lexicographer and translator. Known as ""the father of Arabic journalism,"" al-Shidyaq played a major role in reviving and modernizing the Arabic language.