The Black Radical Tragic: Performance, Aesthetics, and the Unfinished Haitian Revolution (America and the Long 19th Century #2) (Paperback)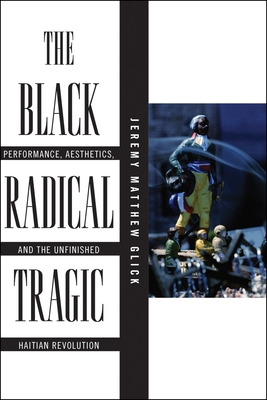 Staff Reviews
---
A totally virtuosic and politically committed look at the reverberations of the Haitian Revolution in art and struggle.
— Cam
Description
---
2017 Nicol's Guill n Outstanding Book Award presented by the Caribbean Philosophical Association
As the first successful revolution emanating from a slave rebellion, the Haitian Revolution remains an inspired site of investigation for a remarkable range of artists and activist-intellectuals in the African Diaspora.
In The Black Radical Tragic, Jeremy Matthew Glick examines twentieth-century performances engaging the revolution as laboratories for political thinking. Asking readers to consider the revolution less a fixed event than an ongoing and open-ended history resonating across the work of Atlantic world intellectuals, Glick argues that these writers use the Haitian Revolution as a watershed to chart their own radical political paths, animating, enriching, and framing their artistic and scholarly projects. Spanning the disciplines of literature, philosophy, and political thought, The Black Radical Tragic explores work from Lorraine Hansberry, Sergei Eisenstein, Edouard Glissant, Malcolm X, and others, ultimately enacting a speculative encounter between Bertolt Brecht and C.L.R. James to reconsider the relationship between tragedy and revolution. In its grand refusal to forget, The Black Radical Tragic demonstrates how the Haitian Revolution has influenced the ideas of freedom and self-determination that have propelled Black radical struggles throughout the modern era.