The Fat Artist and Other Stories (Hardcover)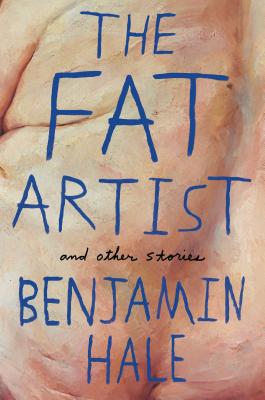 Unavailable, our apologies.
Description
---
Prize-winning author Benjamin Hale's fiction abounds with a love of language and a wild joy for storytelling. In prose alternately stark, lush and hallucinatory, occasionally nightmarish and often absurd, the seven stories in this collection are suffused with fear and desire, introducing us to a company of indelible characters reeling with love, jealousy, megalomania, and despair.

As in his debut novel, The Evolution of Bruno Littlemore, the voices in these stories speak from the margins: a dominatrix whose longtime client, a US congressman, drops dead during a tryst in a hotel room; an addict in precarious recovery who lands a job driving a truck full of live squid; a heartbroken performance artist who attempts to eat himself to death as a work of art. From underground radicals hiding in Morocco to an aging hippy in Colorado in the summer before 9/11 to a young drag queen in New York at the cusp of the AIDS crisis, these stories rove freely across time and place, carried by haunting, peculiar narratives that form the vast tapestry of American life.

Hale's work has earned accolades from writers as disparate as novelist Jonathan Ames, who compared discovering his work to watching Mickey Mantle play ball for the first time; Washington Post critic Ron Charles, who declared him "fully evolved as a writer," and bestselling author Jodi Picoult, who simply called him "brilliant." Pairing absurdity with philosophical musings on the human condition and the sway our most private selves and hidden pasts hold over us, the stories in The Fat Artist reside in the unnerving intersections between life and death, art and ridicule, consumption and creation.
About the Author
---
Benjamin Hale is the author of the short story collection The Fat Artist and Other Stories and the novel The Evolution of Bruno Littlemore. His fiction and nonfiction have appeared, among other places, in Conjunctions, Harper's, The New York Times, The Washington Post, and Dissent, and has been anthologized in Best American Science and Nature Writing. Originally from Colorado, he is a senior editor of Conjunctions, currently teaches at Bard College, and lives in a small town in New York's Hudson Valley.
Praise For…
---
PRAISE FOR THE FAT ARTIST

"Benjamin Hale writes from an altitude that is entirely his own. The view from up there—a hilariously zoological panorama of Americans at their most frail, feral, and blundering—is also entirely his own. The Fat Artist is a brilliant, ceaselessly engaging book."
—Joseph O'Neill, award-winning author of Netherland and The Dog

"Generous, unfolding at a decidedly unhurried pace, the stories in The Fat Artist seem at first to be so precise in the portraits they draw and so specific in their emotional concerns that it takes a while to recognize the fine strands connecting them to American history, culture, and everyday life, strands that will ensnare the lucky readers of this collection as well. Benjamin Hale's writing has range,depth, soul, and music."
—Christopher Sorrentino, author of The Fugitives and Trance

"A steadily growing professional talent…There is a true seriousness to the [title] story: Hale means to say something about art and death, just as elsewhere he means to take us into modes of being that are sometimes torqued a little beyond ordinary reality…[his] stories are wry…the questions he raises are interesting all the same."
—Kirkus Reviews

"You may have read Benjamin Hale's 'Don't Worry Baby' in our Spring issue. It's my favorite from his new collection, The Fat Artist, because it's the most hallucinatory and unhinged display of his prose…The other story that stands out as something truly special is 'If I Had Possession over Judgment Day,'…While Hale's characters are quick to attribute the chaos that ensues to forces cosmic, the orbiting satellites are the only vestiges of order that remain after the bloodbath; in all three points of view, this passage appears at least once: 'The tiny prick of light traveled in a smooth, shallow arc, gradually gathering in brightness until it became a bright white flash …' He's saying something here about our impulse to blame our most entropic mistakes on the actually quite regimented universe."
—The Paris Review

"Wonderfully weird short stories…at his best: turning to the dark and absurd to lay bare the unexpected consequences of one's actions and the accidents of circumstance. Sharply drawn and strange, Hale's narratives deal in secrets and egos and voracious appetites—as much a part of human tradition as sitting down together for a meal."
—Out Magazine

"The short story form allows Hale's own penchant for invention to further shine…The Fat Artist, which includes stories about dominatrices and performance artists, is sure to please."
—The Millions

"Hale's well-hewn, often violent tales are saturated with sadness and full of strange, marginal folk, but the thoughts, desires, and failures of these oddball characters are acutely recognizable…the reader comes away grateful for the sincerity of their melancholy quests to find meaning, love, and the purposes of their ill-fated lives. They mostly fail, some tragically, but not before leaving behind tidbits of wisdom about what it means to be human. This book is at once absurd, morbid, melancholy, ridiculous, and disturbing. It is also erudite and very nearly pretentious, all of which, for like-minded skeptics, pretty much sums up American life around the turn of the 21st century."
—Publishers Weekly

"Hale received the Bard Fiction Prize and a Michener-Copernicus Award for his debut novel, The Evolution of Bruno Littlemore, with a nomination for the New York Public Library's Young Lions Fiction Award to boot. This collection is just as edgy: a man's illicit tryst is interrupted by his estranged son's arrival, for instance, and a performance artist who piles on the pounds becomes an art world sensation."
—Library Journal

"The audacious imagination evident in Hale's acclaimed debut, The Evolution of Bruno Littlemore (2011), shines again in these seven stories .. . In polished prose, Hale creates memorable vignettes, as he muses on topics ranging from sailing to Kafka to sex fetishes. A provocative collection that takes a unique view of the human condition."
—Booklist

PRAISE FOR THE EVOLUTION OF BRUNO LITTLEMORE

"Benjamin Hale is the most talented and intriguing young writer I've met in years. I love his prose, his dialogue, and his balls. Not his actual balls, of course, but the balls to write so ecstatically and with such mad conviction. When I first read the wonderfully comedic The Evolution of Bruno Littlemore, I was so pleased to have come across a Writer. A writer with a capital W. Someone who clearly loves books and the power of the written word. It was like, "Ok, here's a guy who's going to be producing novels for years. This is the real deal." It was like being a baseball scout in Oklahoma in the late 1940's and seeing this young kid running around center-field, and you ask the guy next to you, "Who's that?" And the guy says, "I don't know, some kid named Mickey Mantle." Well, that's how I felt, in a literary way, when I read Benjamin Hale for the first time."
—Jonathan Ames, author of Wake Up, Sir! and The Extra Man

"The Evolution of Bruno Littlemore is an enormous, glorious rattlebag of a book. Benjamin Campbell Hale's extremely loud debut has echoes of the acerbic musings of Humbert Humbert and the high-pitched shrieking of Oskar Matzerath. Hale's narrator, Bruno Littlemore, is a loony, yelping, bouncing, pleading, longing, lost, loony, bleeding, pleading, laughing, beseeching wonder. The book is of such enormous originality and vitality; it is the book I feel I have been searching years for but have never yet found, until now."
—Edward Carey, author of Observatory Mansions and Alva & Irva

"Benjamin Hale is a writer of rare and exciting talent. We'll be reading his books for years. Dive in."
—Anthony Swofford, author of Jarhead

"Brilliant. It's a fantastic concept, that something that shares so much of our DNA can have something to say. The book is worth a read for the narrative voice alone-that of Bruno the chimp-who is erudite, arrogant, and more than a bit confused by the emotions humans take for granted."
—Jodi Piccoult, Newsweek

"Hale's novel is so stuffed with allusions high and low, so rich with philosophical and literary interest, that a reviewer risks making it sound ponderous or unwelcoming. So let's get this out of the way: The Evolution of Bruno Littlemore is an absolute pleasure. Much of its pleasure comes from the book's voice…The Evolution of Bruno Littlemore announces that Benjamin Hale is himself fully evolved as a writer, taking on big themes, intent on fitting the world into his work."
—The New York Times Book Review

"From the magic of consciousness to the reifying function of language, the value of art and the morality of science, The Evolution of Bruno Littlemore is a brilliant, unruly brute of a book … When the novel's antics aren't making you giggle, its pathos is making you cry, and its existential predicament is always making you think. No trip to the zoo, western Africa or even the mirror will ever be the same."
—The Washington Post

"[The Evolution of Bruno Littlemore] throbs with energy and boils with passion as it expresses a dark vision of our essential nature that strikes uncomfortably home.
—LA Times

"[The Evolution of Bruno Littlemore] is valuable as a book that takes on big ideas: what it means to be human, what it means to be an animal, where language comes from, whether science represents barbarism or progress, and biggest and best of all, whether evolution, that great modern faith of upward propulsion, is instead the world's true curse—the final victory for Milton's Satan….it succeeds in hundreds of sparkling minor moments. Bruno's syntax is always interesting, his diction is full of originality and charm ….we are better for knowing him."
—New Yorker

"The Evolution of Bruno Littlemore is a major accomplishment. A lively page-turner that asks the big questions head on and doesn't shy away from controversy, Hale's first novel is a noisy, audacious and promising debut."
—San Francisco Gate

"[Bruno's] quest for answers about the agonizing dilemmas of existence that is unexpectedly resonant.
—Publishers Weekly

"A stunning debut novel . . . Where the novel should be offensive, it is often tender, and where it should be risible, it is genuinely funny. . . Despite his unlikely erudition, Bruno is by turns fragile, mercurial, spiteful, narcissistic, and lost. All of which, even more than his gift of speech, just makes him that much more human."
—Entertainment Weekly

"Bruno Littlemore is one of the most outrageous, vivid characters to populate a page in American fiction in a long time. . . . It's not only a roaring good tale, it's a wonderful musing on the nature of humanness and our relationship to the other species with which we share the planet . . . Hale's sense of humor is often ribald, and the human characters Bruno encounters during his adventures are richly drawn and often eccentric. The descriptions are clearly informed by a deep fondness, and that is the overriding tone of Bruno's narrative: love."
—The Baton Rouge Advocate

"One of the more effusive and unrestrained works of fiction in years . . . It's Bruno's voice that gives this novel the complexity and life it deserves. His stories, although not always reliable, are always abundantly full of the mysteries of humanity."
—Minneapolis Star-Tribune