I Would Die 4 U: Why Prince Became an Icon (Paperback)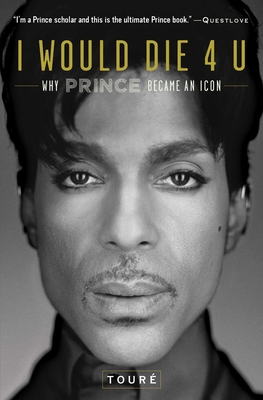 Staff Reviews
---
Though I was never a huge fan of Touré's work, he has hit the jackpot here with a true love of a subject he knows very well. Evolved from a series of lectures at Harvard, this is Prince as icon, as emissary of God, religion, sex, ego, brilliance. This is the psyche and soul of a musician at war with himself and an era.
— Douglas
Description
---
An expansive and insightful exploration of one of the most iconic and electrifying artists ever, this book reveals the stunning, multi-generational influence and appeal of Prince and his revered music—from celebrated journalist, author, and host of the popular podcast The Touré Show.

Infused with Touré's unique pop-culture fluency, I Would Die 4 U is as passionate and radical as its subject matter. Building on his lifelong admiration for Prince's oeuvre and interviews with those closest to the late artist, including band members, his tour manager, and music and Bible scholars, Touré deconstructs the life and work of the enigmatic icon who has been both a reflective mirror of and inspirational force for America.

By defying traditional categories of race, gender, and sexuality, but also presenting a very conventional conception of religion and God, Prince was a man of profound contradictions. He spoke in the language of 60s pop and soul to a generation fearing Cold War apocalypse and the crack and AIDS epidemic, while simultaneously being both an MTV megastar and a religious evangelist. He creatively blended his songs with images of sex and profanity to invite us into a musical conversation about the healing power of God and religion. By demystifying Prince as a man, an artist, and a cultural force, I Would Die 4 U shows us how he impacted and defined a generation.
About the Author
---
Touré is a writer, TV host, and host of the influential podcast The Touré Show. He writes for Rolling Stone, The New York Times, The New Yorker, The Washington Post, The Nation, Vogue, and many other publications. A former cohost of MSNBC's The Cycle, he is also the author of Who's Afraid of Post-Blackness?, a New York Times and Washington Post Notable Book, and three other books. He lives in Brooklyn with his wife and daughter.
Praise For…
---
"I'm a Prince scholar and this is the ultimate Prince book."
— Questlove

Toure is one of my favorite writers and Prince is on the Mount Rushmore of modern music and this is the best book about Prince I've ever read.
— Q-Tip

"It took the singular talent and journalistic skills of Toure to capture the wild genius and larger than life influence of Prince."
— Jann Wenner, founder of Rolling Stone

"For those who understand how singular an artist Prince is, this book -- every bit obsessive and revelatory as its subject -- will be a great pleasure. For everyone else, it¹s mandatory. It unfolds like a good mystery, as cryptic clues are deciphered one after another."
— Joe Levy, Editor, Billboard

In terms of creativity, energy, influence, and sheer virtuosity, few musicians in my lifetime rival Prince -- and in Toure, he's met his perfect authorial match. As a fanboy of both, I was waiting excitedly for this book, but it's even better than I expected. In these illuminating pages, Toure reveals Prince as an artist and cultural force in full.
— John Heilemann, coauthor of Game Change and Double Down (forthcoming)

"Based on his Du Bois Lectures at Harvard, Toure has written a thoughtful and compelling book that is both a full and sensitive explication of the genius of Prince's music, as well as his exemplary role as an seminal figure in contemporary American culture. It is must reading for any student of popular culture."
— Henry Louis Gates, Jr.

"A worthwhile addition to the relatively small number of decent books about Prince. It's certainly bound to be a conversation (or possibly debate) starter for serious Prince fans."
— The Morton Report