The Flamethrowers (MP3 CD)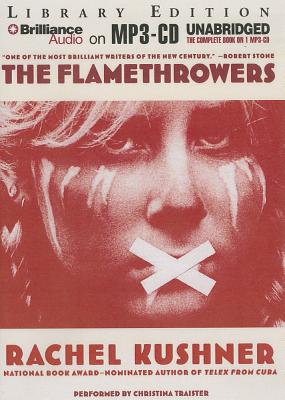 Unavailable, our apologies.
Staff Reviews
---
You emerge from "The Flamethrowers," dazed it's not 1975; doubting you were ever so raw and naive; pissed at certain narcissistic older male artists; shocked that Italy continues to burn; convinced you're still waiting, endlessly waiting, in a cold, cold place. Oh, and Kushner is a ferocious, badass writer.
— Yvonne
Frankly: a kickass novel. Not so frankly: John Berger observed that "men act and women appear," but Reno, motorcyclist and aspiring land artist, reveals the active dimension of mere 'appearing.' Keenly aware of the male gaze -- except where she's subject to it -- Reno rides the line between using masquerade to her advantage and being taken advantage by it. When she infiltrates the boy's clubs of art and politics, she demonstrates the impotence of men who prefer talking over walking -- or riding, or marching, or kidnapping -- as well as how mere appearing can have very real consequences.
— Matt
The narrator-protagonist of "The Flamethrowers" is nicknamed after a place: Reno, where she's from. Her love interest is Sandro Valera, heir to an Italian motorcycle legacy. Reno rides. Sandro makes art that sells. The book is set in 1975 with trips one year forward and many years back. It's centered in SoHo (Mulberry St.) with drives through the Utah Salt Plains and Marxist Italy. It deals in revolution and Conceptual Art. It is the best new novel I read in 2013.
— Fiona
Description
---
The year is 1975 and Reno so-called because of the place of her birth has come to New York intent on turning her fascination with motorcycles and speed into art. Her arrival coincides with an explosion of activity in the art world artists have colonized a deserted and industrial SoHo, are staging actions in the East Village, and are blurring the line between life and art. Reno meets a group of dreamers and raconteurs who submit her to a sentimental education of sorts. Ardent, vulnerable, and bold, she begins an affair with an artist named Sandro Valera, the semi-estranged scion of an Italian tire and motorcycle empire. When they visit Sandro's family home in Italy, Reno falls in with members of the radical movement that overtook Italy in the seventies. Betrayal sends her reeling into a clandestine undertow.
"The Flamethrowers" is an intensely engaging exploration of the mystique of the feminine, the fake, the terrorist. At its center is Kushner's brilliantly realized protagonist, a young woman on the verge. Thrilling and fearless, this is a major American novel from a writer of spectacular talent and imagination.