Distrust That Particular Flavor (Compact Disc)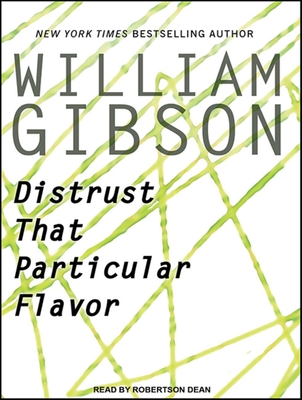 Unavailable, our apologies.
Staff Reviews
---
If you're only familiar with Gibson through the the cyborg dolphins and 160-gigabyte brain implants of Johny Mnemonic, you might be wary of his sociocultural pronouncements, but these talks and articles are more guileless and earnest than anything a professional purveyor of ideas could produce. From the story of his late-nineties addiction to eBay watch auctions to his portrait of Takeshi Kitano, the "Baddest Dude on Earth," Gibson's obsessiveness and sincere admiration make him a more charming and convincing critic than most.
— Cosmo
Description
---
William Gibson is known primarily as a novelist, with his work ranging from his groundbreaking first novel, Neuromancer, to his more recent contemporary bestsellers Pattern Recognition, Spook Country, and Zero History. During those nearly thirty years, though, Gibson has been sought out by widely varying publications for his insights into contemporary culture. Wired magazine sent him to Singapore to report on one of the world's most buttoned-up states. The New York Times Magazine asked him to describe what was wrong with the Internet. Rolling Stone published his essay on the ways our lives are all "soundtracked" by the music and the culture around us. And in a speech at the 2010 Book Expo, he memorably described the interactive relationship between writer and reader. These essays and articles have never been collected-until now. Some have never appeared in print at all. In addition, Distrust That Particular Flavor includes journalism from small publishers, online sources, and magazines no longer in existence. This volume will be essential listening for any lover of William Gibson's novels. Distrust That Particular Flavor offers listeners a privileged view into the mind of a writer whose thinking has shaped not only a generation of writers but our entire culture.
About the Author
---
William Gibson is the author of books including "Neuromancer," "Mona Lisa Overdrive," and "Burning Chrome."

Robertson Dean has recorded hundreds of audiobooks in most every genre. He's been nominated for several Audie Awards, won nine Earphones Awards, and was named one of "AudioFile" magazine's Best Voices of 2010.
Praise For…
---
"A provocative, surprising look at the lesser-known parts of a sci-fi superstar's writing career." ---Kirkus