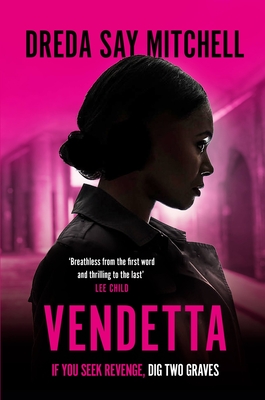 Unavailable, our apologies.
Sorry, We Can Not Obtain this Book at This Time
Description
---
'Breathless from the first word and thrilling to the last' Lee Child

Two murders. Two different crime scenes. One killer?

Mac wakes in a smashed-up hotel room with no recollection of what has happened. With his lover's corpse in the bathroom and the evidence suggesting that he killed her, Mac is on a mission to uncover the truth and find the real killer.

But he's in a race against time with less than a day to unravel the mystery. Still reeling from a personal tragedy Mac isn't afraid of pain. Hot on his heels is tenacious Detective Inspector Rio Wray. Double-crossed and in the line of fire, Mac has to swim through a sea of lies to get to the truth.

But only Mac knows he's been living a double life. Can he be sure he doesn't have the blood of a dead woman on his hands?
About the Author
---
Dreda Say Mitchell is the bestselling and critically acclaimed author of Spare Room, the Gangland Girls and Flesh and Blood series, as well as the DI Rio Wray thrillers Vendetta and Death Trap. Her debut was awarded the CWA's John Creasey Dagger and she chaired the Harrogate Crime Fiction Festival in 2011. Since her sixth book she has been co-writing with Tony Mason. She has been a frequent guest on television and radio including Question Time, BBC Breakfast, Newsnight, Victoria Derbyshire, The Stephen Nolan Show, Front Row, Woman's Hour and numerous others. She has also presented Radio 4's Open Book. Dreda was named one of Britain's 50 Remarkable Women by Lady Geek in association with Nokia. She was born and raised in the East End of London where she continues to live.
Praise For…
---
Breathless from the first word and thrilling to the last—Lee Child

Wonderful vivid writing and a truly original voice.—Peter James

Dreda Say Mitchell is right up there at the forefront of British crime fiction—Simon Kernick

'A terrific murder mystery full of twists and turns... here is a writer who knows how to keep you gripped. Fast and furious with all the right ingredients we have drama, suspense, love, betrayal, misunderstanding, false accusations, running from the law and the villains, undercover investigations, sex, identical twins, Eastern European criminals, all peppered with more violence and murder. Wow.'—Sarah Broadhurst, LoveReading.co.uk

'Right from the first page I loved this book.. This book is certainly going to be in my top 10 read of 2014. Just brilliant'—ilovereading

'Spanning less than twenty-four hours, this is one of those spellbinding thrillers that literally sucks you in immediately... What Say Mitchell does so marvellously is to give her characters depth amongst the pulsating drama... By the end of the book I was physically exhausted. Vendetta is a fantastic thriller. I suggest you strap in as you are in for a very bumpy and exhilarating ride!'—CrimeSquad.com

'Vendetta has one of the best openings I have read in some time... From there on in the action and the questions come thick and fast... the tension increases and your ability to put the book down will disappear. It's a cracking read with genuinely believable characters from troubled Mac, to feisty DI Rio Wray and to those he works for on both sides of his life. There's plenty of legs in these guys too so I'm looking forward to hearing more...'—Life of Crime

'Dreda is the female Simon Kernick in my eyes... The book starts as it means to go on. A thriller cannot start slow, and this was action-packed from the word go... Dreda has played a blinder here with twists I just didn't see coming... Highly recommended'—Book Addict Shaun

'An extremely well written fast-moving chase thriller, violent yet at the same time intelligently confronting the issues of loyalties and betrayals inevitably raised by undercover activities. Mitchell improves with every book'—The Times

'With this fast-paced, gritty and relentlessly violent expedition into the shadowy world of an undercover operative, Mitchell proves that she can go head-to-head with the best of her male peers in tough-guy action fiction.'—Irish Independent

'VENDETTA IS MAGNIFICENT! ... I tore through it and grudged any time that I had to tear myself away from Mac's world.'—Grab This Book

The pace of this relentlessly exciting thriller never falters... Full of guns, explosions, car chases and a terrific twist - it's fast, exciting fun—Sunday Mirror

Vendetta's greatest strength is its fast paced narrative... I'm sure Vendetta will also appeal to fans of Child's Jack Reacher books—Crimepieces.com