Bad Behavior: Stories (Paperback)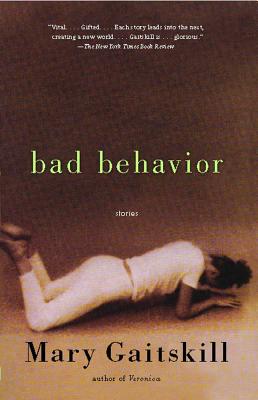 $17.00
On Our Shelves Now - Available to Ship to Your Home
Staff Reviews
---
I read this book all in one day, locked inside during a blizzard. And this is the kind of book you want to be locked in with, blizzard or no. The stories in Bad Behavior are vivid and raw and engrossing. They're also filled with sex. Sex, and sadomasochism, addiction, bad relationships, bad jobs, bad New York apartments. The world of Gaitskill's stories is fraught and fumbling, emotionally complicated, often cruel. She maps a world of rupture and disconnection with breathtaking authority  - her language is flawless, and her gaze is ruthless.
— Madeleine
You don't need to like short stories to like Bad Behavior. Without being directly related, each story, usually about a couple, informs the previous and following so this collections reads like a novel. As the characters manipulate and misunderstand each other, again and again, Gaitskill makes perversity seem ordinary...maybe because it is.
— Bekah
Description
---
A trade paperback reissue of National Book Award finalist Mary Gaitskill's debut collection, Bad Behavior—powerful stories about dislocation, longing, and desire which depict a disenchanted and rebellious urban fringe generation that is searching for human connection.

• Now a classic: Bad Behavior made critical waves when it first published, heralding Gaitskill's arrival on the literary scene and her establishment as one of the sharpest, erotically charged, and audaciously funny writing talents of contemporary literature. Michiko Kakutani of The New York Times called it "Pinteresque," saying, "Ms. Gaitskill writes with such authority, such radar-perfect detail, that she is able to make even the most extreme situations seem real… her reportorial candor, uncompromised by sentimentality or voyeuristic charm…underscores the strength of her debut."
About the Author
---
Mary Gaitskill's novel, Veronica, was nominated for a 2005 National Book Award and was one of The New York Times's 10 Best Books of 2005. She is also the author of the acclaimed novels Because They Wanted To and Two Girls, Fat and Thin. Her stories and essays have appeared in The New Yorker, Harper's Magazine, Esquire, The Best American Short Stories (1993), and The O. Henry Prize Stories (1998). Her short story "Secretary" was the basis for the film of the same name. She lives in New York.
Praise For…
---
"Pinteresque...Ms. Gaitskill writes with such authority, such radar-perfect detail, that she is able to make even the most extreme situations seem real...[her] reportorial candor, uncompromised by sentimentality or voyeuristic charm...underscores the strength of her debut." -- Michiko Kakutani, The New York Times

"Ferocious, terrifying stories, skillful as they are scary. Gaitskill's voice and talents are wonderfully new, as honest as rain, and as welcome in a long, dry season." -- Alice Adams

"A thrilling journey into the deep anxieties of romance and desire...Stunning." -- Frederick Exley

"Stubbornly original, with a sort of rhythm and fine moments that flatten you out when you don't expect it, these stories are a pleasure to read." -- Alice Munro