Light in the Darkness: A Story about How Slaves Learned in Secret (Hardcover)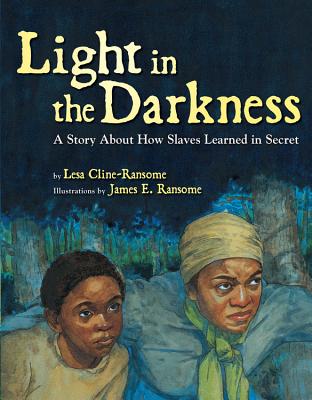 $16.99
In Stock at Publisher - Available to Ship to Your Home
Description
---
An enslaved mother and daughter learn to read in spite of great danger in this beautiful testament to the power of literacy, written and illustrated by an award-winning author/artist team.

Rosa and her mama go to school together-in the dark of night, silently, afraid that any noise they hear is a patroller on the lookout for escaped slaves. Their school is literally a hole in the ground, where they and other slaves of all ages gather to form letters out of sticks, scratch letters in the dirt, and pronounce their sounds in whispers. Young Rosa is eager to learn the letters and then the words, because after the words comes reading. But she must have patience, her mama reminds her, and keep her letters to herself when she's working on the plantation. If the Master catches them, it'll mean a whipping-one lash for each letter. No matter how slow and dangerous the process might be, Rosa is determined to learn, and pass on her learning to others.
About the Author
---
Lesa Cline-Ransome is the Coretta Scott King Award-winning author of numerous acclaimed picture books, many of which celebrate Black figures from American history, including Satchel Paige, Major Taylor: Champion Cyclist; Young Pele: Soccer's First Star; Words Set Me Free: The Storyof Young Frederick Douglass; Just a Lucky So and So: The Story of Louis Armstrong; and Game Changers: The Story of Venus and Serena Williams. Her biography in verse of Harriet Tubman, Before She Was Harriet (illustrated by James Ransome), received five starred reviews, was nominated for an NAACP Image award, and received a Coretta Scott King Honor for Illustration. Lesa's other books have received numerous honors and wards including NAACP Awards, Kirkus Best Books, School Library Journal Best Book, New York Public Library Best Book, ALA Notable, an NCTE Notable, CBC Choice Awards, two Top 10 Sports Books for Youth, an Orbis PIctus Recommended Book, an ILA Teacher's Choice, a Jane Addams Award, a Scott O'Dell Award for Historical Fiction and a Christopher Award. She frequently collaborates with her husband, illustrated James Ransome, and they live in Rhinebeck, New York, with their four children.

James Ransome has received both the Coretta Scott King Award for Illustration and the IBBY Honor Award for his book, The Creation. He has also received a Coretta Scott King Honor Award for Illustration for Uncle Jed's Barbershop. Ransome has exhibited works in group and solo shows throughout the country and received The Simon Wiesenthal Museum of Tolerance award for his book, The Wagon. In 1999 Let My People Go received the NAACP Image Award for Illustration and Satchel Paige was reviewed in Bank Street College of Education's "The Best Children's Book of the Year." In 2001, James received the Rip Van Winkle Award from the School Library Media Specialists of Southeast New York for the body of his work. How Animals Saved the People received the SEBA (Southeastern Book Association) Best Book of the Year Award in 2002 and the Vermont Center for the Book chose Visiting Day as one of the top ten diversity books of 2002. His work is part of both private and public children's book art collections. The Children's Book Council named James E. Ransome as one of seventy-five authors and illustrators everyone should know. He frequently collaborates with his wife, author Lesa-Cline Ransome, and they live in Rhinebeck, New York, with their four children.
Praise For…
---
"In this tale, [Cline-Ransome] makes the point that learning was not just a dream of a few famous and accomplished men and women, but one that belonged to ordinary folk willing to risk their lives. Ransome's full-page watercolor paints-in beautiful shades of blue for the night and yellow for the the day-are a window, albeit somewhat gentle, into a slave's life for younger readers. A compelling story about those willing to risk '[a] lash for each letter'."
—
Kirkus Reviews
"Told from the perspective of Rosa, a girl who makes the dangerous nighttime journey to the lessons with her mother, the story effectively conveys the urgent dedication of the characters to their surreptitious schooling and their belief in the power of literacy.... Solid text and soft, skillful illustrations combine for a poignant tribute to the power of education and the human spirit."
—
School Library Journal
"Dramatic, deep-toned, full-page illustrations mostly dark because of the nighttime setting, skillfully match the vivid, rich language of the text. The expressive faces of the characters shine through the darkness, clearly conveying the senses of determination, fear, and hope which permeate the story. This will surely spark a good number of questions about the condition and treatment of slaves, and why they would go to such extremes to educate themselves."
—
Booklist
"The story illustrates the courageous acts that many slaves had to take in order to gain knowledge and freedom. Ransome's illustrations add to the mood and the danger inherent in this act. Recommended."
—
Library Media Connection