A Place in the Country (Hardcover)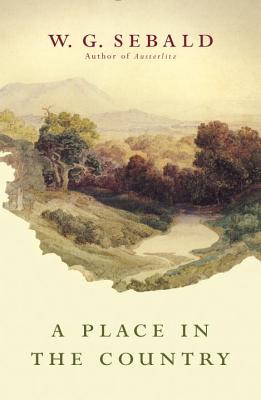 Unavailable, our apologies.
Sorry, We Can Not Obtain this Book at This Time
Staff Reviews
---
Comparisons to Sebald are fashionable, but none of them are true. No one else compares to him. No one else so deftly weaves history, criticism, and memory into such crystalline prose, and no one else, while writing exclusively about other artists, so faithfully delivers us a record of his own soul.
— Matt
Description
---
A Place in the Country is W. G. Sebald's meditation on the six artists and writers who shaped his creative mind and the last of this great writer's major works to be translated into English.
This beautiful hardcover edition, with a full-cloth case, includes more than 40 pieces of art and 6 full-color gatefolds, all originally selected and laid out by W. G. Sebald.
This extraordinary collection of interlinked essays about place, memory, and creativity captures the inner worlds of five authors and one painter. In his masterly and mysterious style part critical essay, part memoir Sebald weaves their lives and art with his own migrations and rise in the literary world.
Here are people gifted with talent and courage yet in some cases cursed by fragile and unstable natures, working in countries inhospitable or even hostile to them. Jean-Jacques Rousseau is conjured on the verge of physical and mental exhaustion, hiding from his detractors on the island of St. Pierre, where two centuries later Sebald took rooms adjacent to his. Eighteenth-century author Johann Peter Hebel is remembered for his exquisite and delicate nature writing, expressing the eternal balance of both the outside world and human emotions. Writer Gottfried Keller, best known for his 1850 novel Green Henry, is praised for his prescient insights into a Germany where the gap between self-interest and the common good was growing ever wider.
Sebald compassionately re-creates the ordeals of Eduard Morike, the nineteenth-century German poet beset by mood swings, depression, and fainting spells in an increasingly shallow society, and Robert Walser, the institutionalized author whose nearly indecipherable scrawls seemed an attempt to duck down below the level of language and obliterate himself (and whose physical appearance and year of death mirrored those of Sebald's grandfather). Finally, Sebald spies a cognizance of death's inevitability in painter Jan Peter Tripp's lovingly exact reproductions of life.
Featuring the same kinds of suggestive and unexplained illustrations that appear in his masterworks Austerlitz and The Rings of Saturn, and translated by Sebald's colleague Jo Catling, A Place in the Country is Sebald's unforgettable self-portrait as seen through the experiences of others, a glimpse of his own ghosts alongside those of the men who influenced him. It is an essential addition to his stunning body of work.
Praise for APlace in the Country

Measured, solemn, sardonic . . . hypnotic . . . W. G. Sebald s] books, which he made out of classics, remain classics for now. Joshua Cohen, The New York Times Book Review
In Sebald's writing, everything is connected, everything webbed together by the unseen threads of history, or chance, or fate, or death. The scholarly craft of gathering scattered sources and weaving them into a coherent whole is transformed here into something beautiful and unsettling, elevated into an art of the uncanny an art that was, in the end, Sebald's strange and inscrutable gift. Slate
Magnificent . . . The multiple layers surrounding each essay are seamless to the point of imperceptibility. New York Daily News
Sebald's most tender and jovial book. The Nation
Reading A Place in the Country is] like going for a walk with a beautifully talented, deeply passionate novelist from Mars. New York
About the Author
---
W. G. Sebald was born in Wertach im Allgau, Germany, in 1944. He studied German language and literature in Freiburg, Switzerland, and Manchester. He taught at the University of East Anglia in Norwich, England, for thirty years, becoming professor of European literature in 1987, and from 1989 to 1994 was the first director of the British Centre for Literary Translation. His books The Rings of Saturn, The Emigrants, Vertigo, and Austerlitz have won a number of international awards, including the National Book Critics Circle Award, the Los Angeles Times Book Award, the Berlin Literature Prize, and the LiteraTour Nord Prize. He died in December 2001. Translator Jo Catling joined the University of East Anglia as Lecturer in German Literature and Language in 1993, teaching German and European literature alongside W. G. Sebald. She has published widely on both Sebald and Rainer Maria Rilke."
Praise For…
---
"Measured, solemn, sardonic . . . hypnotic . . . [W. G. Sebald's] books, which he made out of classics, remain classics for now."—Joshua Cohen, The New York Times Book Review

"In Sebald's writing, everything is connected, everything webbed together by the unseen threads of history, or chance, or fate, or death. The scholarly craft of gathering scattered sources and weaving them into a coherent whole is transformed here into something beautiful and unsettling, elevated into an art of the uncanny—an art that was, in the end, Sebald's strange and inscrutable gift."—Slate
 
"Reading [A Place in the Country is] like going for a walk with a beautifully talented, deeply passionate novelist from Mars."—New York

"A Place in the Country's publication in English is something to celebrate."—W. S. Merwin
 
"Out of exquisitely attuned feeling for the past, Sebald fashioned an entirely new form of literature. I've read his books countless times trying to understand how he did it. In the end, I can only say that he practiced a kind of magic born out of almost supernatural sensitivity. A Place in the Country extends the too-short time we were given in his company."—Nicole Krauss
 
"Few writers have traveled as quickly from obscurity to the sort of renown that yields an adjective as quickly as German writer W. G. Sebald (1944–2001), and now Sebaldian is as evocative as Kafkaesque. Sebald is that rare being: an inimitable stylist who creates extraordinary sentences that, like crystals, simultaneously refract and magnify meaning. This posthumous collection, a boon to Sebald admirers, is a series of tributes to writers and artists Sebald admires and feels affinity with. . . . All of Sebald's subjects had uneasy relations with their times and with themselves: 'Exile, as [Gottfried] Keller describes it, is a form of purgatory located just outside the world.' One does not have to leave home to feel bereft, and Sebald is the great contemporary master of this liminal territory."—Booklist

"A beautiful book."—The Spectator
 
"An intimate anatomy of the pathos, absurdity and perverse splendour of trying to find patterns in the chaos of the world."—The Telegraph
 
"A fascinating volume that confirms Sebald as one of Europe's most mysterious and best-loved literary imaginations."—Evening Standard
 
"This illuminating collection shows a writer at his most inquisitive, gazing deeply under the surface of things and grappling with the difficulties of personal and collective memory."—Financial Times
 
"[A Place in the Country is] illuminating for its insight into the author's work and its obsessions, themes, and observations on home and exile. . . . Contemplating the work of others, Sebald writes from a writer's rather than a reader's perspective, of one who shares the affliction. . . . This last word from the novelist provides a nice footnote on his own writing."—Kirkus Reviews

"Sebald's subtle dissection . . . illuminates the writer's trade . . . by one of its more elusive practitioners. . . . These essays are well worth reading."—Library Journal

"Catling's translation will be welcomed by his fans. Catling taught with Sebald in the last decade of his life, and her flowing translation pays crucial attention to the prosody and contours of Sebald's sentences."—Publishers Weekly