Tehran Children: A Holocaust Refugee Odyssey (Hardcover)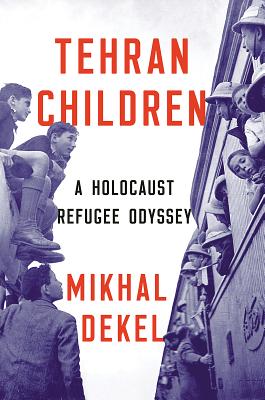 Staff Reviews
---
When Mikhal Dekel was a little girl, she left a note under her father's pillow asking him why he loved his mother more than her. His resultant rage spurred her lifelong search for her father's lost past which she uncovers with the skill of a historian and the heart of a beloved daughter. This is a Holocaust refugee saga unlike any other, taking us through Poland, Russia, Uzbekistan, Tehran and ultimately Palestine as her family wanders in search of home.
— Cheryl
Description
---
A Finalist for the 2020 Sami Rohr Prize for Jewish Literature, the National Jewish Book Award for Writing Based on Archival Material, and the Chautauqua Prize



Fleeing East from Nazi terror, over a million Polish Jews traversed the Soviet Union, many finding refuge in Muslim lands. Their story—the extraordinary saga of two-thirds of Polish Jewish survivors—has never been fully told.
Author Mikhal Dekel's father, Hannan Teitel, and her aunt Regina were two of these refugees. After they fled the town in eastern Poland where their family had been successful brewers for centuries, they endured extreme suffering in the Soviet forced labor camps known as "special settlements." Then came a journey during which tens of thousands died of starvation and disease en route to the Soviet Central Asian Republics of Uzbekistan and Kazakhstan. While American organizations negotiated to deliver aid to the hundreds of thousands of Polish Jews who remained there, Dekel's father and aunt were two of nearly one thousand refugee children who were evacuated to Iran, where they were embraced by an ancient Persian-Jewish community. Months later, their Zionist caregivers escorted them via India to Mandatory Palestine, where, at the endpoint of their thirteen-thousand-mile journey, they joined hundreds of thousands of refugees (including over one hundred thousand Polish Catholics). The arrival of the "Tehran Children" was far from straightforward, as religious and secular parties vied over their futures in what would soon be Israel.
Beginning with the death of the inscrutable Tehran Child who was her father, Dekel fuses memoir with extensive archival research to recover this astonishing story, with the help of travel companions and interlocutors including an Iranian colleague, a Polish PiS politician, a Russian oligarch, and an Uzbek descendent of Korean deportees. The history she uncovers is one of the worst and the best of humanity. The experiences her father and aunt endured, along with so many others, ultimately reshaped and redefined their lives and identities and those of other refugees and rescuers, profoundly and permanently, during and after the war.
With literary grace, Tehran Children presents a unique narrative of the Holocaust, whose focus is not the concentration camp, but the refugee, and whose center is not Europe, but Central Asia and the Middle East.
About the Author
---
Mikhal Dekel is professor of English at City College of New York and the CUNY Graduate Center. For this book, she was named a finalist for the 2020 Sami Rohr Prize for Jewish Literature, the National Jewish Book Award for Writing Based on Archival Material, and the Chautauqua Prize.
Praise For…
---
The story at the center of this book is the way contingency shaped so many destinies. It makes these Tehran children not simply another detail of the Holocaust but a matter of enduring existential, psychological and moral reflection.
— Johnathan Brent - New York Times Book Review

The backstory about how Dekel, now a professor of comparative literature in the U.S., began researching this project with an Iranian colleague, adds an interesting personal aspect to this work of excellent scholarship and a harrowing history illuminating both the specifics of the past and the universal aspects of the refugee experience.
— Dan Kaplan - Booklist

An engrossing narrative that seamlessly weaves together a moving memoir, a gripping detective novel, and an erudite social history; heart wrenching in describing the agonies of the Polish Jews, heartwarming in bringing to life their defiance and the hospitality they received in places like Tehran. While voices of rancor and rage are using stereotypes and shibboleths to simplify the complexities of our human condition, Tehran Children is a must-read for all hoping against hope to cherish our common humanity.

— Abbas Milani, author of The Shah

In this brilliantly conceived narrative, Mikhal Dekel illuminates a series of unexpected places absent from many maps of the refugee experience of the Holocaust. A striking book.
— Samuel Moyn, author of Not Enough: Human Rights in an Unequal World

A revelatory history, a saga of flight and welcome, of death and head-down survival, a powerful narrative built for this moment. Dekel's sweeping storytelling is marked by heartbreaking restraint and historical sensitivity.
— Charles King, author of Odessa and Midnight at the Pera Palace

Tehran Children is a gripping account of Holocaust survival unlike any other. Blending the genres of memoir, history, and travelogue, Mikhal Dekel combines the empathy of a daughter with the insight of a scholar. This is one of the greatest, largely untold stories of the Second World War.

— Tara Zahra, author of The Great Departure

Groundbreaking...The strength of Dekel's book is that it moves beyond the narrative binary of 'warm hospitality' and 'abuse' to show the grey spaces in between...it is hope that lies at the center of this moving, heartbreaking testimony...hope that untold suffering can, and sometimes does, come to an end.
— Arash Azizi - IranWire