Harmless Like You: A Novel (Hardcover)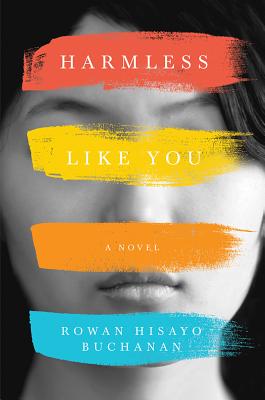 Unavailable, our apologies.
Sorry, We Can Not Obtain this Book at This Time
Description
---
"This brilliant debut novel by Rowan Hisayo Buchanan is cause for celebration."—Lorrie Moore
Written in startlingly beautiful prose, Harmless Like You is set across New York, Connecticut, and Berlin, following Yuki Oyama, a Japanese girl fighting to make it as an artist, and Yuki's son Jay who, as an adult in the present day, is forced to confront his mother's abandonment of him when he was only two years old.
The novel opens when Yuki is sixteen and her father is posted back to Japan. Though she and her family have been living as outsiders in New York City, Yuki opts to stay, intoxicated by her friendship with the beautiful aspiring model Odile, the energy of the city, and her desire to become an artist. But when she becomes involved with an older man and the relationship turns destructive, Yuki's life is unmoored. Harmless Like You is a suspenseful novel about the complexities of identity, art, adolescent friendships, and familial bonds that asks—and ultimately answers—how does a mother desert her son?
About the Author
---
Rowan Hisayo Buchanan is a British-Japanese-Chinese-American novelist. She received a BA from Columbia University and currently resides in the UK. Harmless Like You won an Authors' Club First Novel Award and a Betty Trask Award. It was a New York Times Editors' Choice and a 2017 NPR Great Read.
Praise For…
---
Buchanan's prose is
visceral, startling and mind-bendingly gorgeous. . . .worth
reading for the beauty and originality of the prose, for the questions Buchanan
raises about art and heritage, and for the characters who are sometimes as
maddening as they can be magnificent.
— Boston Globe

Buchanan's prose is lyrical and evocative… [She] reminds us, the ethereal dreams of the 1960s shaped the all-too-solid contours of the world we inhabit today.
— The New York Times Book Review

Rowan Hisayo Buchanan's debut is a beautifully textured novel. . . Yuki's
story feels compellingly immediate, as prickly and unpredictable as its
protagonist.
— Washington Post

Rowan Hisayo Buchanan writes with beauty and sensitivity about what it means to be an artist, a parent, and an outsider in a foreign culture.
— New York Journal of Books

The brilliant debut novel by Rowan Buchanan is cause for celebration.
— Lorrie Moore

The kind of novel our century deserves—a brilliantly conceived, beautifully written transnational novel about multiracial identity, motherhood, the struggle to be an artist, and the struggle to belong to your family. This marks the debut of an important new voice in fiction.
— Alexander Chee, author of The Queen of the Night

In Harmless Like You, Rowan Hisayo Buchanan tells the parallel stories of Yuki, a Japanese teenager living on her own in 1960s' New York, and Jay, her abandoned son who, in the 1980s, questions the family life he's chosen. With luminous prose, unflinching honesty, and compelling narrative drive, Buchanan examines Yuki and Jay's respective quests for companionship and safety and meaning, all the while asking, What is home? What does the face of love look like? To what extent should we honor the artistic and creative? Which is more dangerous: loneliness or intimacy? At once harrowing and reassuring, rash and generous, impetuously youthful and imbued with the wisdom that comes with perspective and distance, Harmless Like You is a stunning debut that reads like the work of a seasoned novelist.

— Judith Mitchell

Shuttling deftly between mother and son, Rowan Hisayo
Buchanan's passionate, gorgeously-written debut novel investigates
harmlessness and harm, power and vulnerability, free will and fate.
— Ellis Avery

This is a book I've been waiting for since before its author was born. And yet I could never have predicted it. It is a book about beauty and belonging, suffering and being lost, a book that takes into account history, the implications of separation and disorientation. Rowan Hisayo Buchanan cleaves to her idiosyncrasies, foregoing whitewash in favor of her own glittering vision. She is "the seer, not the seen." The result is a gift—unassuming, elegant, vividly prismatic. Not since Sigrid Nunez's A Feather on the Breath of God has a book shone such a moving light on multiracial, interracial, and transnational relationships. Regardless of your flesh tone, Rowan Hisayo Buchanan's study of color—its history, its strangeness, its allure, and its consequences—will dazzle you.

— Jennifer Tseng, poet and author of Mayumi and the Sea of Happiness

What
a beautiful book. So measured and confident for a debut – really impressive
stuff.

The
fine brushwork of a meticulous student of the human condition (and I love the
use of all the painting/colour descriptions – so effective) set within the
rich, widescreen drama of a bold and visionary storyteller. It's like staring
at a stone at the bottom of a very clear, but slowly shifting, lake. An
enchanting and deftly layered exploration of desire, self-identity and
belonging.
— Jane Unsworth, author of Animals

Moving from Manhattan to Berlin, from the Vietnam War to the new millennium, Buchanan's debut explores the thin line between attachment and abandonment, love and pain, selfishness and sacrifice. With kaleidoscopic prose and characters all too human, Harmless Like You is an unforgettable debut, as rich in darkness and light as it is in color.

— Chloe Benjamin