Paris Echo: A Novel (Paperback)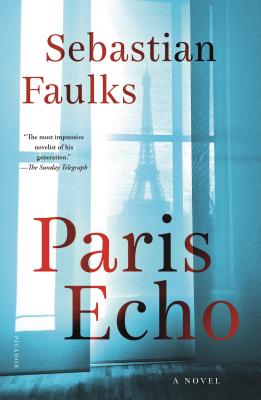 Description
---
"Cunningly crafted. . . . France's unquiet histories are brought to life by a master storyteller." —Financial Times (UK)

A story of resistance, complicity, and an unlikely, transformative friendship, set in Paris, from internationally bestselling novelist Sebastian Faulks.

American historian Hannah intends to immerse herself in World War II research in Paris, wary of paying much attention to the city where a youthful misadventure once left her dejected. But a chance encounter with Tariq, a Moroccan teenager whose visions of the City of Lights as a world of opportunity and rebirth starkly contrast with her own, disrupts her plan.

Hannah agrees to take Tariq in as a lodger, forming an unexpected connection with the young man. Yet as Tariq begins to assimilate into the country he risked his life to enter, he realizes that its dark past and current ills are far more complicated than he'd anticipated. And Hannah, diving deeper into her work on women's lives in Nazi-occupied Paris, uncovers a shocking piece of history that threatens to dismantle her core beliefs. Soon they each must question which sacrifices are worth their happiness and what, if anything, the tumultuous past century can teach them about the future.

From the sweltering streets of Tangier to deep beneath Paris via the Metro, from the affecting recorded accounts of women in German-occupied France and into the future through our hopes for these characters, Paris Echo offers a tough and poignant story of injustices and dreams.
About the Author
---
Sebastian Faulks is the internationally bestselling author of several novels, including Charlotte Gray, which was made into a film starring Cate Blanchett, and the #1 international bestseller and classic Birdsong, which has sold more than 3 million copies and has been adapted for the stage, for television (starring Eddie Redmayne), and is now in development as a feature film. He lives in London.
Praise For…
---
"[Faulks] is as skillful as ever. . . . With lyrical precision, he reveals Paris and its wartime past. . . . And Paris Echo, for all its tragedy, is one of his most buoyant novels, flawlessly paced and deftly constructed." —Wall Street Journal

"Faulks immerses readers into a haunted Paris. . . . Exhilarating. . . . Fans of Paula McClain and Ian McEwan will enjoy Faulks's touching tale." —Publishers Weekly

"Enveloping. . . . Faulks offers a subtle but affecting portrait of friendship while exploring the immense difficulty of making sense of the larger world." —Booklist

"Romantic. Intriguing. Beguiling. . . . Paris Echo takes readers to places tourists don't visit . . . [and] is so intimately, so evocatively like Paris." —Sunday Times (UK)

"Exquisite. . . . A deeply affecting, wholly unsolemn treatment of some of the 20th century's darkest moments." —Daily Mail (UK)

"Superb." —Observer (UK)

"Briskly told and engaging. . . . [Paris Echo] is an entertaining novel with memorable characters. A fun romp through Paris and history." —Kirkus

"Paris Echo doesn't disappoint. . . . Faulks is doing what he does best, marrying careful historical research with a good ear for dialogue." —The Times (UK)

"Both thoughtful and thought-provoking." —S Magazine, Sunday Express (UK)

"Faulks excels at crafting well-rounded characters." —Good Housekeeping (UK)

"Here is Paris in all its beauty and squalor. . . . Intelligent, moving . . . A love letter to Paris and indeed to France." —The Scotsman (UK)

"An intriguing guide to the many layers of Parisian life." —Mail on Sunday (UK)

"Master storytelling. . . . [An] intriguing and moving story that shows how the future is shaped by the past." —Women & Home (UK)