Bitter Eden: A Novel (Paperback)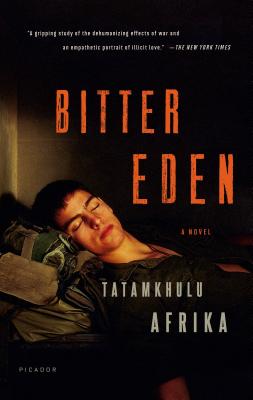 Description
---
A STONEWALL HONOR BOOK OF LITERATURE
ONE OF NPR'S GREAT READS OF 2014
A 2015 LAMBDA LITERARY AWARD FINALIST

A modern classic being introduced to the United States for the first time, Tatamkhulu Afrika's autobiographical novel illuminating the profound and incomparable bonds forged between prisoners of war.

Bitter Eden is based on Tatamkhulu Afrika's own capture in North Africa and his experiences as a prisoner of war during World War II in Italy and Germany. This frank and beautifully wrought novel deals with three men who must negotiate the emotions that are brought to the surface by the physical closeness of survival in the male-only camps. The complex rituals of camp life and the strange loyalties and deep bonds among the men are heartbreakingly depicted. Bitter Eden is a tender, bitter, deeply felt book of lives inexorably changed, and of a war whose ending does not bring peace.
About the Author
---
TATAMKHULU AFRIKA was born in Egypt in 1920 of an Arab father and a Turkish mother. He was brought to South Africa in 1923, orphaned and raised by Christian foster parents. He served in World War II in the North African Campaign, and was a POW for three years in Italy and Germany. At the age of seventeen he published a novel in Great Britain entitled Broken Earth, but did not write again for fifty years. Bitter Eden was first published when he was eighty years old. He died in December 2002.
Praise For…
---
"A gripping study of the dehumanizing effects of war and an empathetic portrait of illicit love." —The New York Times

"The story behind the story of Bitter Eden, the gorgeously written posthumous American debut by Tatamkhulu Afrika, reads as if the author stepped out of a Roberto Bolaño novel . . . Bitter Eden is a small masterpiece." —San Francisco Chronicle

"To call Bitter Eden excellent is to sell it short. This is an extraordinary book, the sort that comes along all too seldom. It is a work to be read and studied and cherished for being the rare thing that it is: a novel as a fully realized work of art." —The New York Journal of Books

"Such a powerful, melodic, urgent and honest story of suffering, love and survival I have never quite encountered before. This is a jewel of a tale--a vital and raw piece of the true human experience--and it needs to never be forgotten. I am honored to have read it, and will pass it along to many others." —Elizabeth Gilbert, author of Eat, Pray, Love and The Signature of All Things

"Although most American readers are likely unfamiliar with Tatamkhulu Afrika's work, that is about to change. Bitter Eden . . . is a profound work of fiction that deals with male bonding during wartime, as well as ideas of masculinity, love, and art. " —Out.com

"[An] intense and passionate novel . . . I found myself harrowed and extraordinarily moved . . . American readers are lucky to have the chance to read this beautiful book." —Towleroad.com

"Written when the late author was 80 years old and published posthumously, decades removed from Afrika's experience of war but deeply haunted by it, Bitter Eden is the author's exorcism of so many memories. His account of his time as a prisoner of war (Afrika was also arrested and convicted as a terrorist for fighting apartheid in the 1980s, and spent a decade in the same prison as Nelson Mandela) would have been no less striking or memorable if he had written it in his first days of freedom" —Flavorwire (Book of the Week)

"The taboo of homosexuality--the accusations, the denials, the flaunting and acquiescing--is a primary concern of the novel, as gay and straight and all that lies in between struggle in close quarters and constant deprivation . . . What begins as an unforgettable account of prisoners of war ends as something surprising: a love story." —Kirkus Reviews (starred)

"Bitter Eden's love is neither kind nor tame nor ever adorned. The word love is never mentioned, because love--if this is really the name for it--is so spare and brutal and bare-knuckled that the characters themselves aren't even aware of it. But this book will haunt you, and stay with you, and won't ever let go, just like the memory of a love that never happened but should have happened continues to exact its toll of misfired hopes and regrets. But the language is not spare and the poetry here, like shards of a broken bottle, is simply everywhere." —André Aciman, author of Call Me By Your Name and Alibis

"Bitter Eden is one of those rare books that is both tender and tough, that is a punch to the stomach and a caress to the face. This is an exploration of men in war, and though it rings absolutely true to the experiences of Allied prisoners in the World War II, it also transcends the specific and the historic to be a moving and unsettling chronicle of the ferocious bonds and dangerous conflicts that emerge when any group of men are pushed to extremes. Bitter Eden is earthy and lyrical, caustic and moving. It is a thrilling read." —Christos Tsiolkas, author of The Slap

"Afrika has done an excellent job of foregrounding a theme that was only a subtext in previous POW novels . . . This is a short novel that manages to encompass a great many emotions while plumbing the multiple contradictions of its title." —Publishers Weekly

"Afrika explores these relationships in depth, creating a remarkably honest and moving book. Originally published shortly after the author's death in 2002 and based on his experiences as a POW in WWII, Bitter Eden is a beautifully crafted, absorbing read, a careful examination of human relationships, and a rare glimpse into the complexities of life in wartime." —Booklist

"Well-seasoned reflections." —Library Journal, Barbara's Picks

"A fervent account of the repressed passions in Italian and German POW camps...Proves to be well worth the wait, above all for its chilling account of conditions in the camps." —The Times (London)

"A powerful story of men driven together by adversity." —Daily Mail (London)

"Bitter Eden reinvents and rescues that thing called the love story from the knowing, arch exile of the last fifty years with a willful, passionately perverse innocence." —The Independent (London)