Aftermath: On Marriage and Separation (Paperback)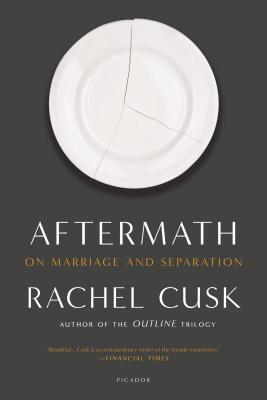 Description
---
In 2003, Rachel Cusk published A Life's Work, her provocative and startlingly funny memoir of the cataclysm of motherhood, and launched debates that continue to this day. Now, in her most relevant work yet, Cusk offers an intimate exploration of divorce and its tremendous impact on the lives of women—and discovers opportunity as well as pain.
An unflinching chronicle of the upheaval of her own recent separation, Aftermath is also a vivid study of divorce's complex place in our society. With candor as fearless as it is affecting, Rachel Cusk maps a transformative chapter of her life with wit and acuity, and in a way that will help us understand our own.
About the Author
---
Rachel Cusk is the author of Outline, Transit, the memoirs A Life's Work, The Last Supper, and Aftermath, and several novels: Saving Agnes, winner of the Whitbread First Novel Award; The Temporary; The Country Life, which won a Somerset Maugham Award; The Lucky Ones; In the Fold; Arlington Park; and The Bradshaw Variations. She was chosen as one of Granta's 2003 Best of Young British Novelists. She lives in London.
Praise For…
---
"Cusk can nail a simile like Gabby Douglas can execute a backflip....[She] is not afraid to take herself seriously--which is a tendency that George Eliot, among others, understood the value of." —Rebecca Mead, The New Yorker
"Brilliant...as slim and revealing as a microscope slide...over eight echo-laden chapters, Cusk moves through her period of aftermath, from agitation to recrimination, to numbness, to new stirrings." —Lisa Shea, Elle
"Like Virginia Woolf, Cusk is a digressive but strategic essayist....This book is a solace to anybody who has dwelt in post-familial wastes." —Liza Mundy, San Francisco Chronicle
"Thrilling...There are riches buried like gold in the bitter picture Cusk describes...An enormously talented writer." —Nan Goldberg, The Boston Globe
"Engaging...[and] full of feeling...Cusk is a great observer of the roles people--and especially women--play, studying not only the garbs they put on for tradition and ideology but also how this action affects their understanding of themselves." —Ashley Nelson, The Washington Post
"Compelling...Strikingly beautiful...Meticulously crafted...[Cusk] is a keen, even brilliant, observer of her own behavior." —Margaret Eby, The Christian Science Monitor
"Striking...Startling...Unflinching...Bold, gripping, original and occasionally darkly funny." —Kirkus Reviews (starred review)
"I read A Life's Work shortly after I, too, had had a child, and doing so was like finally letting go of a breath I had held for a year. Ostentatiously smart, fearless, the author displayed what almost seemed a compulsion to yank the threads of that impossibly pretty doily tatted by convention around motherhood...Her memoir of divorce displays the same ferocity of intellect, humor, and occasional bad mood...It is a testament to Cusk's talent that she was able to make something of [divorce] that would not set fire to the reader, only raise the occasional blister; it was she, the newly divorced, who was rendered ash. That is how it always is. But sometimes a phoenix rises. Sometimes the bird takes the shape of a book." —Melissa Holbrook Pierson, The Daily Beast
"In this thought-provoking memoir, Cusk musters her considerable literary powers to mine a complex terrain filled with heartbreak and doubt...Interspersed within the narrative are stories within stories, vivid scenes, and piercing observations." —Publishers Weekly (starred review)
"Compelling and assured...[Cusk is an] exacting, formidable talent." —Alison Pick, The Globe and Mail (Toronto)
"A penetrating exploration of gender roles in the context of marriage and family and how the dissolution of a marriage changes a person's relationship with others." —Vanessa Bush, Booklist
"A well-wrought treatise on the stark reality of divorce. Cusk fearlessly cultivates her own aftermath, or 'second sowing,' and chooses to live 'the disorganized life and feel the dark stirrings of creativity, than to dwell in civilized unity, racked by the impulse to destroy.'" —Meganne Fabrega, Star-Tribune (Minneapolis)
"Artful and nuanced...[Cusk] has the novelist's saving graces--honesty, courage, and the ability to depict her experiences in exquisitely crafted language...Her exacting, cerebral treatment of such a highly-charged subject is what makes it of literary value." —Amanda Craig, The Independent
"Brilliant...Rachel Cusk's books are like pop-up volumes for grown-ups, the prose springing out of the page to bop you neatly between the eyes with its insights." —Julie Burchill, The Observer (London)
"Unflinching and beautifully wrought...Cusk uses the [memoir] form with great tact and writerly panache. She is at once probing and reticent, mustering her scenes and images to convey the truth of enmeshed lives and loves...[Aftermath is] full of beauty--the beauty of language struggling to reveal an experience which is complex and scored with doubts and pain." —Lisa Appignanesi, The Daily Telegraph
"Startlingly insightful...Rachel Cusk's writing has quietly thrilled me for years with its intelligence, perception and understated power: ordinary people's flaws are depicted vividly yet without fanfare in brittle, brilliant prose...As always with Cusk, it's exhilarating to feel stimulated, to have fabulous phrases and similes cause pulses of pleasure." —Leyla Sanai, The Independent on Sunday
"Readers who admire the difficult discipline of self-scrutiny will find precision, beauty and a complicated truth in Cusk's narrative." —Jane Shilling, New Statesman
"Funny and smart and refreshingly akin to a war diary--sort of Apocalypse Baby Now...A Life's Work is wholly original and unabashedly true." —Elissa Schappell, The New York Times Book Review, on A Life's Work
"[Cusk] writes with the intelligence, wit, and keen eye for detail demanded by any kind of reporting, and the result is a book on the subject curiously unlike any other." —The New Yorker on A Life's Work
"Pity the writer who has the misfortune to produce a book at the same time and on the same subject as the ridiculously gifted Rachel Cusk. The author of three novels, Cusk brings her clear-eyed wit to the subject of motherhood...You get the sense of a superior mind that can't stop itself from whirring away." —Newsday on A Life's Work
"Hauntingly beautiful...[Cusk] succeeds in finding an original, literary language to express the journey to motherhood." —The Christian Science Monitor on A Life's Work
"A wonder. Cusk has written something fine and beautiful...I can't imagine that anyone who is both a reader and a mother will be unmoved by it." —The Atlantic Monthly on A Life's Work
"She captures the absolute shock of suddenly finding yourself responsible for another person--with no training, no guidance, and, indeed, no one coming from their planet to take them back. A brilliant book--and so funny too." —Kate Atkinson on A Life's Work
"I loved reading it, and found it fascinating, but I also found it dangerous. An incitement to riot...It's an extraordinary piece of work and the writing is utterly beautiful...I laughed out loud, often, in painful recognition." —Esther Freud on A Life's Work