The Alchemists of Kush (Paperback)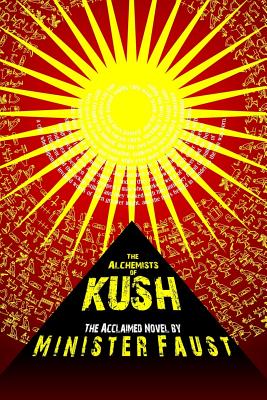 Unavailable, our apologies.
Sorry, We Can Not Obtain this Book at This Time
About the Author
---
Minister Faust is a long-time community activist, writer, journalist, broadcaster, public speaker, martial artist in several disciplines, and the host of the MF GALAXY podcast (http: //mfgalaxy.org). As a member of E-Town's anti-fascist movement in 1990, he and other youth marched on a Nazi skinhead gang house, the hub at that time for a series of violent assaults. Confronted there by skinheads with guns, Minister Faust held them back with nothing but the power of his words. Thus began a speaking career that has taken him across Canada and before crowds in the tens of thousands. Minister Faust taught English Literature in E-Town junior high and high schools for a decade, and later worked as a mentor and trainer for the Keshotu Leadership Academy, an Africentric organisation whose manual he wrote. A radio broadcaster from 1989 to 2012, Minister Faust hosted Africentric Radio (formerly The Terrordome) for 21 years, for which he interviewed luminaries such as Tariq Ali, Molefi Kete Asante, Martin Bernal, Noam Chomsky, Chuck D., Austin Clarke, Angela Davis, Karl Evanzz, Tom Fontana, Glen Ford, Nalo Hopkinson, Reginald Hudlin, Ice-T, Janine Jackson, Michael Parenti, Ishmael Reed, Gil Scott-Heron, Vandana Shiva, David Simon, Scott Taylor, and many more. As a radio and print journalist, he went as far as the 1995 Million Man March in Washington, DC, and to the Ain-al-Hilweh Palestinian refugee camp in southern Lebanon, to collect stories and hear directly from people living and making history. A maverick novelist increasingly described as one of the finest voices of his generation, Minister Faust is the author of the critically acclaimed The Coyote Kings, Book One: Space-Age Bachelor Pad, and the Kindred Award-winning Shrinking the Heroes. He refers to his sub-genre of writing as Imhotep-Hop-an Africentric literature that draws from myriad ancient African civilisations, explores present realities, and imagines a future in which people struggle not only for justice, but for the stars.