Toulouse on the Loose!: Oh, Toulouse, Where are you going, mon ami? (Hardcover)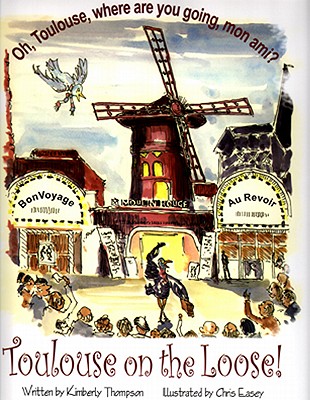 Unavailable, our apologies.
Sorry, We Can Not Obtain this Book at This Time
Description
---
Toulouse on the Loose! is the first book in a series about a French turkey who travels to Washington, DC, at Thanksgiving time. This naive artist does not quite get the picture, however, and is about to discover why everyone has turkey on their minds. But through the grace of a pigeon who tells all, this very cultured bird does not end up on the chopping block. Instead he is pardoned at the White House Rose Garden and learns that assumptions can be forgiven and that the truth sets you free. Free to do what? Why, free to paint all the landmarks of the states and educate children about their beloved country through the eyes of a foreigner!
About the Author
---
Kimberly Thompson is a children's author and storyteller. Her favorite pastime is to travel with her children gathering research for new ideas. In addition to storytelling, she has her Master of Arts in curriculum instruction and design from Concordia University. Toulouse on the Loose! is her first children's book. Chris Easey was born in Norfolk England, more years ago than he cares to remember. Now he lives six months in Illinois and six months in West Sussex, England. He taught high school geography for nearly forty years in England and always enjoyed drawing and producing cartoons for colleagues. Upon retiring, he was given water colors and a sketchpad along with the words "do something," and he has been doing so ever since.