Renoir, My Father (Paperback)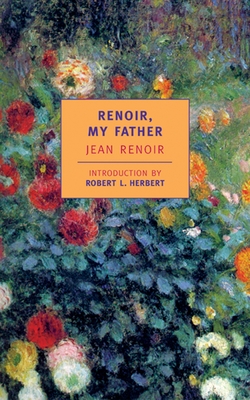 Description
---
In this delightful memoir, Jean Renoir, the director of such masterpieces of the cinema as Grand Illusion and The Rules of the Game, tells the life story of his father, Pierre-Auguste Renoir, the great Impressionist painter. Recounting Pierre-Auguste's extraordinary career, beginning as a painter of fans and porcelain, recording the rules of thumb by which he worked, and capturing his unpretentious and wonderfully engaging talk and personality, Jean Renoir's book is both a wonderful double portrait of father and son and, in the words of the distinguished art historian John Golding, it "remains the best account of Renoir, and, furthermore, among the most beautiful and moving biographies we have."

Includes 12 pages of color plates and 18 pages of black and white images.
About the Author
---
Jean Renoir (1894–1979), the son of the painter Auguste Renoir, was born in Paris, grew up in the south of France, and served as a cavalryman and pilot during World War I. He directed his first film, La Fille de l'eau, in 1925 and followed it with many others, including his masterpieces Grand Illusion (1937) and The Rules of the Game (1939). In 1975 Jean Renoir received an Academy Award for his lifetime contribution to the cinema.

Robert L. Herbert, after a long career at Yale, is now Andrew W. Mellon Professor Emeritus of Humanities at Mount Holyoke. He is a member of the American Academy of Arts and Sciences and the American Philosophical Society, and has been named Officier dans l'Ordre des Arts et des Lettres by the French Government. Among his books are Impressionism: Art, Leisure and Parisian Society, Nature's Workshop: Renoir's Writings on the Decorative Arts, and Seurat: Drawings and Paintings. His most recent book is Seurat and the Making of La Grande Jatte.

Randolph Weaver translated several books from French into English.  With Dorothy Weaver, he  translated Renoir, My Father by Jean Renoir.

Dorothy Weaver and Randolph Weaver translated Jean Renoir's Renoir, My Father, a memoir about his father, the painter Pierre-Auguste Renoir.