Sleepless Nights (Paperback)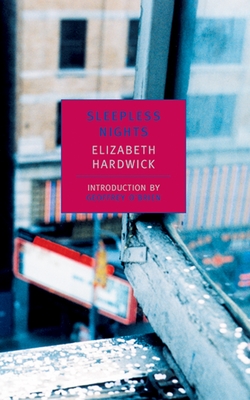 Staff Reviews
---
Sleepless Nights is the height of autofictional achievement, and the greatest example of what fiction can do with a fragment. Anti-confessional and sometimes cold, Hardwick is largely disinterested in her own 'I', although the book has the tone of autobiography, and the woman writing to you is named Elizabeth - a woman who, like Hardwick, left rural Kentucky for the intellectual demi-monde of 1950s New York, and endured a testing marriage and seperation from a poet who losely resembles Hardwick's husband Robert Lowell. Sleepless Nights lies somewhere between the twin poles of Renata Adler's Speedboat and Rachel Cusk's autofictional trilogy, but reimagines the plotless novel all anew, erupting from strange depths, transforming you utterly.
— Madeleine
Description
---
In Sleepless Nights a woman looks back on her life—the parade of people, the shifting background of place—and assembles a scrapbook of memories, reflections, portraits, letters, wishes, and dreams. An inspired fusion of fact and invention, this beautifully realized, hard-bitten, lyrical book is not only Elizabeth Hardwick's finest fiction but one of the outstanding contributions to American literature of the last fifty years.
About the Author
---
Elizabeth Hardwick (1916–2007) was born in Lexington, Kentucky, and educated at the University of Kentucky and Columbia University. A recipient of a Gold Medal from the American Academy of Arts and Letters, she is the author of three novels, a biography of Herman Melville, and four collections of essays. She was a co-founder and advisory editor of The New York Review of Books and contributed more than one hundred reviews, articles, reflections, and letters to the magazine. NYRB Classics publishes Sleepless Nights, a novel, and Seduction and Betrayal, a study of women in literature.

Geoffrey O'Brien's books include The Browser's Ecstasy: A Meditation on Reading, The Phantom Empire: Movies in the Mind of the Twentieth Century, and Dream Time: Chapters from the Sixties. He is editor in chief of the Library of America.
Praise For…
---
"[T]he literary equivalent of polished onyx."—James Clarke, The Guardian

"Brilliantly poised and confidently daring, Sleepless Nights is a chin-up tightrope walk along the borderline between fiction and autobiography . . . it is graceful, laconic, and wise." —Newsweek

"This original novel does everything for lost times that an irreplaceable family photograph album does—except that here, the words are worth a thousand pictures." —Philip Roth

"An extraordinary and haunting book." —Joan Didion, The New York Times Book Review

"Sleepless Nights—a novel of mental weather—enchants by the scrupulousness and zip of the narrative voice, its lithe, semi-staccato descriptions and epigrammatic dash." —Susan Sontag, The New Yorker

"Talk about exploding expectations of narrative, character, structure in a novel. It's such a brilliant, strange novel." — Nicole Krauss, The Guardian