Pearls on a Branch: Oral Tales (Paperback)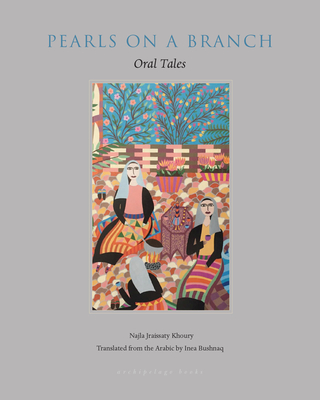 Description
---
A collection of 30 traditional Syrian and Lebanese folktales infused with new life by Lebanese women, collected by Najla Khoury.

While civil war raged in Lebanon, Najla Khoury traveled with a theater troupe, putting on shows in marginal areas where electricity was a luxury, in air raid shelters, Palestinian refugee camps, and isolated villages. Their plays were largely based on oral tales, and she combed the country in search of stories. Many years later, she chose one hundred stories from among the most popular and published them in Arabic in 2014, exactly as she received them, from the mouths of the storytellers who told them as they had heard them when they were children from their parents and grandparents. Out of the hundred stories published in Arabic, Inea Bushnaq and Najla Khoury chose thirty for this book.
About the Author
---
Najla Jraissaty Khoury was born in Beirut. In the 1970s, she taught at adult literacy programs and later trained pre-school teachers. Her work has been influenced by her experience in education and her interest in folk tales and children's literature. Najla Khoury founded and directed a puppet troupe and has developed several educational toys. In 1997, she helped found the NGO Assabil Libraries, which focuses on establishing public libraries throughout Lebanon.
Praise For…
---
"A funny, bawdy, occasionally gruesome, and decidedly adult collection that celebrates small cultural variations amid large universal values." — Kirkus Reviews

"[T]hese tales are radiant with sunlight and flowers, jinns and spirits, palaces and sultans... the themes will resonate with anyone who loves fairy tales and folklore... An absolute delight for readers young and old." —Barbara Hoffert, Library Journal

"Many times these stories express a desire to upend power structures...One could look for hints of protofeminism or use for comparative literature or read for pure enjoyment. The author's and translator's notes are helpful for appreciating the tales as expressions of women who had no voice except among themselves."--Booklist

"The collection gives a strong sense of the women who passed down these stories through generations: rebellious, ribald and utterly charming." — Jade Colbert, The Globe and Mail

"Here a young woman slaps a suitor, transporting him back to his old life; the daughter of the sun and the moon commands objects with her voice; Thuraya, a long-haired woman trapped in a tower by a beastly ghoul, escapes with her lover by transforming everyday objects into a forest, a fire, an enormous lake... Filled with magic and cultural insight, the stories collected in Pearls on a Branch should be read aloud, explored and thoroughly enjoyed." — The (Iowa) Gazette

"The folkloric stories in Pearls on a Branch feature protagonists, often young women, who work to shape their future through generosity and cleverness.... Female protagonists are agents of peace but also indelibly clever, demonstrating the humor, alternately ribald and subtle, at work in the lives of the tellers.... Even the stories without a female protagonist are concerned with how women exercise power in the world and shape their own narratives." — Sara Ramey, World Literature Today

"Comic, unique, and at times provocative… There are many figures to admire in Pearls on a Branch, and the translator must be counted among them… [Inea Bushnaq's] preservation of a sense of the original's rhythmic quality, more than making up for the loss of wordplay and rhyme, achieves the impossible—rendering the written audible, enough to hear generations of female voices calling out, inviting you to sit and listen to their timeless tales." —Anaka Allen, Asymptote Journal

"Frequently, fathers and husbands are outsmarted by daughters and wives, and peasant girls catch the eyes of princes and charm them into royal marriages... These stories are charming and subversive, often hilarious, but always sincere in their telling." — Arkansas International

"The stories of Pearls on a Branch vary from fairy tale-esque to curiously compelling or comic... These fantastic tales are culturally intriguing, and particularly notable for acknowledging the unique voices of Lebanese women, past and present." — Foreword Reviews

"Pearls on a Branch is an all-ages collection with something for everyone: delicious language, fun stories and unexpected reversals. Those who read it will find themselves like the married frogs at the end of their tale: 'Content, they ask for nothing more.'" ––M Lynx Qualey, The National

"Timeless... Not just a 'rescue mission to preserve the oral tradition' but a bridge that will help connect Western readers to a culture they do not know." —D.A. Dellechiaie, Boston University News Service

"It was very interesting to be given this opportunity to glimpse into such an essential but often overlooked aspect of Arabic life" --Literary Flits (blog)

"After twenty years the final curtain was lowered on Sanduk el Fergeh. The pursuit of stories, however, continued for memory and for pleasure. These are stories that belong to the human heritage. They are expressions of a distinctive cultural milieu. The notions of good and evil, for example, are not as categorical in them as in Western folktales. Fairies and witches have no equivalent in Arabic; instead there are magicians, male and female, good and bad. An old woman or an ancient man often are ogres, addressed as "Uncle Ogre" or "Mother Ogre." A hero can tame them through his courtesy and deeds.
These stories have an identity all their own. I had no right to keep them hidden in my drawers; I felt it a duty to share them. I hope that they will give the reader as much pleasure as I had listening to them." -- Najla Khoury