Any God Will Do (Carnegie Mellon University Press Poetry Series ) (Paperback)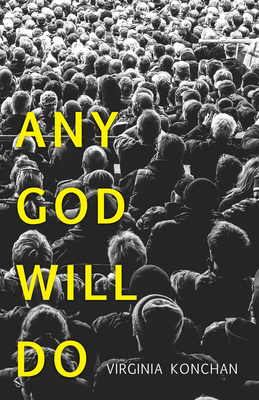 Unavailable, our apologies.
Sorry, We Can Not Obtain this Book at This Time
Description
---
"There are no machine guns, or cameras, here."

Any God Will Do is a collection that investigates the lines between worldliness and asceticism, belief and delusion, chance and design, desire and its transcendence. Internal and end rhyme structure these pithy and compact poems that are rife with classical, pop culture, and poetic allusions. They culminate in an argument that intimacy and creation through language are not only possible within a capitalist framework, but indeed may be the only ballasts we know.
About the Author
---
Virginia Konchan is the author of The End of Spectacle, also published by Carnegie Mellon University Press. Her poetry has appeared in the New Yorker, the New Republic, Best New Poets, and Boston Review, among others.
Praise For…
---
"Urgent, whip-smart—each poem opens like shaken champagne."
— John Emil Vincent, author of Ganymede's Dog

"Konchan's gloriously scathing and exhilarating second book mines the flotsam and jetsam of failed romance ("O eros, put away your bully stick") and the god-awful "claptrap" of ersatz culture. Lioness-fierce ("I am not a marble goddess whose breasts resemble / bayonets of Spring), acerbic and magical ("the moon is in her stirrups / and the doctor's prognosis is time"), Any God Will Do arrives on the scene, all systems go, as a lover's lament, a fist-fast roller coaster, and a rocket-blast: hold onto your seat!"
— Cyrus Cassells, author of The Gospel according to Wild Indigo

"Konchan, a self-confessed 'atheist who says her prayers,' is also a fast-talking phrase-maker of the first order who can switch poetic registers from the aporetic to the operatic in the pause after a period. Her 'fallback plan / is style,' and although she claims, 'I have reached the end / of my ability to troubleshoot,' these stylish poems shoot for trouble and nail it. Any God Will Do is a dictionary of desire, a breviary of post-religious bravery, and a book chockablock with lines that prove Konchan right when she writes, 'I interrupt my programming / to say something original.'"
— Stephen Kampa, author of Articulate as Rain