Iron Roads of the Monadnock Region. Volumes I and II: Railroads of Southwestern New Hampshire and North-Central Massachusetts, (Paperback)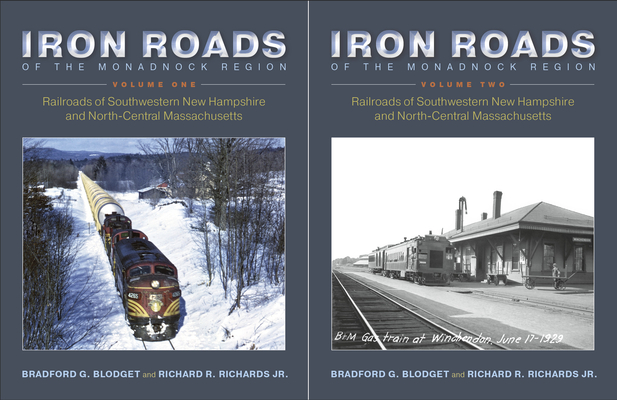 Unavailable, our apologies.
Sorry, We Can Not Obtain this Book at This Time
Description
---
Today, the sounds of steam whistles and trains are no longer heard among the mountains and valleys in most of Cheshire County, New Hampshire, though to the west and south in the Connecticut Valley and in north-central Massachusetts, steel rails are still very much alive. The two-volume set of Iron Roads of the Monadnock Region brings to life the story of now largely forgotten railroads that once operated in the area, shining new light on the roads' stories from their beginnings to the present. Authors Blodget and Richards detail how and why the roads were built in the first place, where they went and what they did, their roles in the economy of the Monadnock Region, and what became of them. Seven years in the making, this set is a compendium of little-known history, tracing the high and low points of the roads, their first and last trains, glory days, times of struggles, disasters, and wrecks. Loaded with hard-to-find historical information, indexed, and copiously illustrated and enriched by rare and unpublished photos--over 700 images, maps, and tables--it's all here, an essential reference for the serious rail fan.