Lulu and the Brontosaurus (Paperback)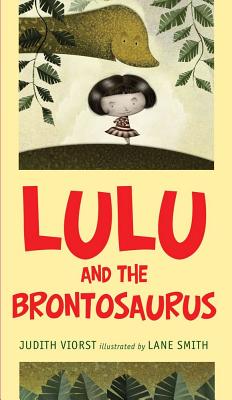 Unavailable, our apologies.
Sorry, We Can Not Obtain this Book at This Time
Staff Reviews
---
If a brontosaurus in the forest wants to pet little girl, and a bossy little girl in the forest wants a pet brontosaurus, whose will will win?
— Laurel
Autumn 2010 Kids' Next List
---
"Spoiled Lulu demands a brontosaurus for her birthday, and when her parents say no, Lulu tromps off to find one herself. The scary woods provide some animal encounters that Lulu easily deals with; she is the scary one, after all. Finally Lulu finds Mr. B, a brontosaurus who completely agrees that having a pet would be a wonderful thing. What happens next will surprise young readers and please their parents. Lane Smith's illustrations add a fine comedic touch."
— Margaret Brennan Neville, The King's English, Salt Lake City, UT
Description
---
Now in paperback, an illustrated chapter book from industry legends Judith Viorst and Lane Smith
"I'm gonna, I'm gonna, I'm gonna, gonna, get "
"a bronto-bronto-bronto-bronto-saurus for a pet
"Lulu is so accustomed to getting what she wants that when her parents deny her birthday request for a brontosaurus, she throws a four-day temper tantrum and then storms off into the forest in search of the dinosaur she clearly deserves. Lulu isn't particularly impressed with the snake, tiger, and bear she encounters, but then she finds him--a beautiful, long-necked, graceful brontosaurus. Mr. B completely agrees with Lulu that having a pet would be a wonderful thing, and Lulu thinks she's gotten her birthday wish at last. Until she realizes that Mr. Brontosaurus thinks that "she" would make an ideal pet for "him"
How will Lulu ever get out of this sticky situation without throwing a fit (Mr. B does not respond well to those), or using force (Mr. B is much too tall to bonk on the head with her suitcase), or smushing her pickle sandwich? Beloved children's author Judith Viorst and Caldecott-winning illustrator Lane Smith offer a fresh and funny tale with several surprise endings