Cinema Is a Cat: A Cat Lover's Introduction to Film Studies (Paperback)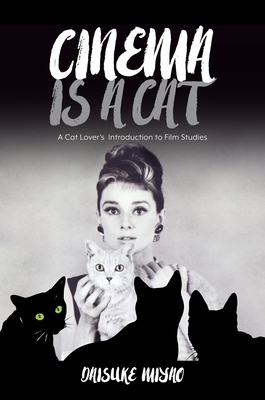 Unavailable, our apologies.
Sorry, We Can Not Obtain this Book at This Time
Description
---
Watching movies every night at home with his cats, film scholar and cat lover Daisuke Miyao noticed how frequently cats turned up on screen. They made brief appearances (think of Mafia boss Marlon Brando gently stroking a cat in a scene from The Godfather); their looks provided inspiration to film creators (Avatar); they even held major roles (The Lion King). In Cinema Is a Cat, Miyao uses the fascinating relationship between cats and cinema to offer a uniquely appealing introduction to film studies.
Cats are representational subjects in the nine films explored in this book, and each chapter juxtaposes a feline characteristic--their love of dark places, their "star" quality--with discussion of the theories and histories of cinema. The opening chapters explore three basic elements of the language of cinema: framing, lighting, and editing. Subsequent chapters examine the contexts in which films are made, exhibited, and viewed. Miyao covers the major theoretical and methodological concepts of film studies--auteurism, realism, genre, feminist film theory, stardom, national cinema, and modernity theory--exploring fundamental questions. Who is the author of a film? How does a film connect to reality? What connections does one film have to other films? Who is represented in a film and how? How is a film viewed differently by people of different cultural and social backgrounds? How is a film located in history? His focus on the innate qualities of cats--acting like prima donnas, born of mixed blood, devoted to the chase--offers a memorable and appealing approach to the study of film. How to read audio-visual materials aesthetically and culturally is of limitless value in a world where we are constantly surrounded by moving images--television, video, YouTube, streaming, GPS, and virtual reality. Cinema Is a Cat offers an accessible, user-friendly approach that will deepen viewers' appreciation of movies, from Hollywood classics like Breakfast at Tiffany's and To Catch a Thief, to Japanese period dramas like Samurai Cat. The book will be attractive to a wide audience of students and scholars, movie devotees, and cat lovers.