Music for Mister Moon (Hardcover)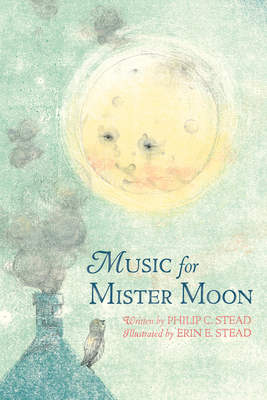 Staff Reviews
---
Dreamy and melancholic, a meditation on the beauty of being alone with your thoughts and the beauty of sharing your thoughts with a friend. Perfect for reading at bedtime cuddled next to someone who loves you, with the moon shining through a window nearby if you can manage it.
— Laurel
Description
---
A shy musician makes an unexpected friend in this beautiful picture book from an award-winning duo.

A Great Lakes Great Reads Award Children's Picture Book Winner

A girl named Harriet longs to play her cello alone in her room. But when a noisy owl disrupts her solitude, Harriet throws her teacup out the window in frustration, and accidentally knocks the moon out of the sky.

Over the course of an evening, Harriet and the moon become fast friends. Worried that he'll catch a chill, Harriet buys the moon a soft woolen hat, then takes him on a boat ride across a glistening lake, something he's only dreamed of. But can she work up the courage to play her music for the moon?

In this delicate bedtime story about a shy young cello player who learns to share her music with the moon, the award-winning Philip and Erin Stead deliver another whimsical, visually oriented picture book in their signature style.

The duo of Philip and Erin Stead are "one of the most notable names in children's literature" -ABC News


A BookPage Best Book of the Year
A Bank Street Best Book of the Year - Outstanding Merit
About the Author
---
ERIN and PHILIP STEAD are an award-winning picture book team. Their book A Sick Day for Amos McGee (400,000 plus copies sold to date) won the Caldecott Medal and was named a New York Times Best Illustrated Book and a Publisher's Weekly Best Children's Book. Other popular books include Bear Has a Story to Tell, an E. B White Award Honor Book. Most recently they collaborated with Mark Twain on The Purloining of Prince Oleomargarine, a major New York Times Bestseller and the recipient of much major media attention including profiles on CBS Sunday Morning and The New Yorker. They live in Michigan.
Praise For…
---
★ "In making amends for a thoughtless act, a shy young cellist finds just the right audience. . . . The illustrations, as spare and harmonious as the prose, are pale constructs of lightly applied pencil over misty ink monoprints . . . A low-key, atmospheric encounter a-glimmer with verbal and visual grace notes."—Kirkus Reviews, Starred Review 

★ "a gift for the eyes and a delight for the imagination. Encore, please." —Booklist, Starred Review

★ "The award-winning Steads who are best known for their Caldecott Medal book A Sick Day for Amos McGee are back with a delightful picture book in their signature style. The soft and dreamlike illustrations done with oil based monoprinting on a sheet of acrylic and are the perfect accompaniment to the simple and thoughtful prose as they work in harmony to bring Harriet's dream to the pages. A gentle bedtime story that is recommended for all." —School Library Journal, Starred Review

★ "Caldecott medalist Erin Stead's layers of oil ink and colored pencil weave a translucent moonlit spell around the graphite-sketched characters, including a thick-furred bear in a trapper hat and an upright, pot-bellied walrus. Introverts and dreamers ages four to nine will gravitate to Philip Stead's wistful Mister Moon, who thinks oars moving through the water and buoy bells are music compared to the quiet sky. Subtle and whimsical, Music for Mister Moon celebrates the peace that grows between trusted friends."—Shelf Awareness, Starred Review
 
"Erin Stead's prints, embellished with colored pencil and graphite, use point of view to create perceptual distance while simultaneously establishing a close emotional connection."—The Horn Book

"The fine lines of Erin Stead's pencil drawings introduce readers to Harriet's inner life, where the wishes of her parents and the glare of the world can't intrude. It's a deep, almost reverent look at how a child can use her imagination to create not just the world she wants, but the world she needs."—Publishers Weekly

"With a superb balance between text and art, Music for Mister Moon is a vivid journey into a child's nuanced inner world." —BookPage