Now That the Audience Is Assembled (Hardcover)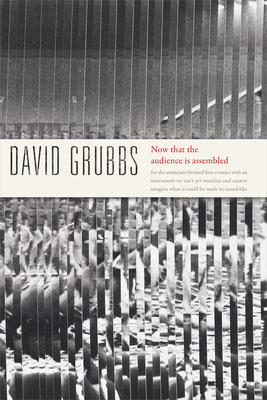 Unavailable, our apologies.
Sorry, We Can Not Obtain this Book at This Time
Staff Reviews
---
In an unexpected follow-up to his excellent book on John Cage and recording, David Grubbs offers a scrupulously detailed account of an imaginary, infinite musical performance: "All present, dreaming and otherwise, can't believe what they've heard." A prose poem of sorts, both hazily dreamlike and abstract in its exactitude, Now that the audience is assembled puts a serious onus on the reader to think alongside its pataphysical flights of fancy, and in so doing doubles as an interactive performance.
— Cam
Description
---
Following his investigation into experimental music and sound recording in Records Ruin the Landscape, David Grubbs turns his attention to the live performance of improvised music with an altogether different form of writing. Now that the audience is assembled is a book-length prose poem that describes a fictional musical performance during which an unnamed musician improvises the construction of a series of invented instruments before an audience that is alternately contemplative, participatory, disputatious, and asleep. Over the course of this phantasmagorical all-night concert, repeated interruptions take the form of in-depth discussions and musical demonstrations. Both a work of literature and a study of music, Now that the audience is assembled explores the categories of improvised music, solo performance, text scores, instrument building, aesthetic deskilling and reskilling, and the odd fate of the composer in experimental music.