Loft Living: Culture and Capital in Urban Change (Paperback)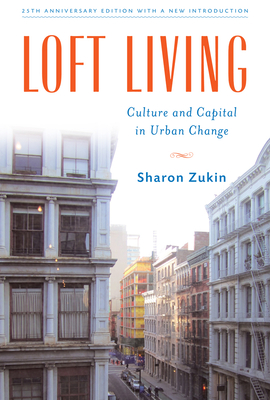 Staff Reviews
---
Zukin's prescient classic describes how the state and big real estate realized the power of ART in manipulating the housing market. Zukin's triangulations of formal and informal structures of power are confident and detailed, regardless of whether she's dissecting art patronage or the city's tax code. Her diagnosis is so ahead of its time, it could've used the tired buzzword "collusion" to describe the state's deliberate partnership with development to destroy industrialization and open up the city to development--a move that was aided by herding an entire artist identity into social complacency, real estate marketing, and fealty to the state. Learn about how the urban development model we see all over the world now was incubated in this very neighborhood of SoHo, and how the model came to be designed (hint: it isn't broken, but working exactly as it was intended to).
— Gleb
Description
---
Since its initial publication, Loft Living has become the classic analysis of the emergence of artists as a force of gentrification and the related rise of "creative city" policies around the world.  This 25th anniversary edition, with a new introduction, illustrates how loft living has spread around the world and that artists' districts—trailing the success of SoHo in New York—have become a global tourist attraction. Sharon Zukin reveals the economic shifts and cultural transformations that brought widespread attention to artists as lifestyle models and agents of urban change, and explains their role in attracting investors and developers to the derelict loft districts where they made their home.
Prescient and dramatic, Loft Living shows how a declining downtown Manhattan became a popular "scene," how loft apartments became hot commodities for the middle class, and how investors, corporations, and rich elites profited from deindustrializing the city's factory districts and turning them into trendy venues for art galleries, artisanal restaurants, and bars. However, this edition points out that the artists who led the trend are now priced out of the loft market.  Even in New York, where the loft living market was born, artists have no legal claim on loft districts, nor do they get any preferential treatment in the harsh real estate market.
From the story of SoHo in Lower Manhattan to SoWa in Boston and SoMa in San Francisco, Zukin explains how once-edgy districts are transformed into high-price neighborhoods, and how no city can restrain the juggernaut of rising property values.
About the Author
---
SHARON ZUKIN is professor of sociology at Brooklyn College and the City University of New York Graduate Center. 
Praise For…
---
"An outstanding example of the new interdisciplinary direction in the study of urban communities, combining political economy, sociology, and history. 
Loft Living
 is literate, evocative, [and] ambitious." 
— Contemporary Sociology
1.   "An impressive book. Zukin entered the tangled world of zoning law, development politics, and real estate markets, analyzed documents and conducted interviews until she understood that world and was able to make us understand it, and emerged with a persuasive analysis of what may be the fundamental model for urban change."
— American Journal of Sociology
"An important, substantive study in urban sociology and political economy...readable...style, free of academic cant."
— Choice
"One of the most insightful analyses yet to be published on the recent processes of transformation of American cities...a most interesting exploration of the social roots of urban vitality as well as the new forms of spatial inequality."
— Manuel Castells
"A formidable book."
— New Statesman
"An engrossing, enlightening, and elegantly written book."
— Theory and Society
"The Last of the SoHo Pioneers," by Kim Velsey
https://www.nytimes.com/2020/09/18/realestate/soho-artist-loft-sale.html?action=click&module=Editors%20Picks&pgtype=Homepage
— New York Times
"Zukin outlines the economic and political changes that influenced the abandonment of manufacturing in Manhattan and impacted the culture surrounding residential loft conversion."
— Soho Broadway