Thunder & Lightning: Weather Past, Present, Future (Hardcover)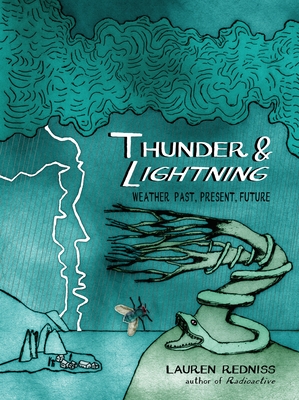 Staff Reviews
---
One of my favorite things from 2015, when I'm forced to cough up a list. Don't forget to read, when you're caught up in all the beautiful pictures -- her voice is like a glass of water filled to the brim with ice, very slightly sweet, intense if you've just brushed your teeth and are in bed.
— Audrey
Description
---
From the National Book Award finalist Lauren Redniss, author of Radioactive, comes a dazzling fusion of storytelling, visual art, and reportage that grapples with weather in all its dimensions: its danger and its beauty, why it happens and what it means.

WINNER OF THE PEN/E. O. WILSON LITERARY SCIENCE WRITING AWARD • NAMED ONE OF THE BEST BOOKS OF THE YEAR BY SAN FRANCISCO CHRONICLE, KIRKUS REVIEWS, AND SHELF AWARENESS

Weather is the very air we breathe—it shapes our daily lives and alters the course of history. In Thunder & Lightning, Lauren Redniss tells the story of weather and humankind through the ages.

This wide-ranging work roams from the driest desert on earth to a frigid island in the Arctic, from the Biblical flood to the defeat of the Spanish Armada. Redniss visits the headquarters of the National Weather Service, recounts top-secret rainmaking operations during the Vietnam War, and examines the economic impact of disasters like Hurricane Katrina. Drawing on extensive research and countless interviews, she examines our own day and age, from our most personal decisions—Do I need an umbrella today?—to the awesome challenges we face with global climate change.

Redniss produced each element of Thunder & Lightning: the text, the artwork, the covers, and every page in between. She created many of the images using the antiquated printmaking technique copper plate photogravure etching. She even designed the book's typeface.

The result is a book unlike any other: a spellbinding combination of storytelling, art, and science.

Praise for Thunder & Lightning

"[An] aesthetically charged and deeply researched account . . . a wild rainstorm of a book, pelting the reader with ideas and inspiration."—Nature

"A gorgeous and illuminating illustrated study of weather in all its tempestuous variety . . . Redniss's combo of fact, folklore, and vibrant etched copperplate prints enthralls."—O: The Oprah Magazine

"Eerily beautiful . . . Contains plenty of scientific explanation (including more than a few nods toward global warming), but also far-flung personal stories that illuminate the beauty, wonder and chaos inherent in the elements."—The New York Times

"Magical . . . Redniss has . . . shown us how human beings live with nature—fighting, coexisting, taming, predicting via leech barometer and radar and intuition."—The New York Times Book Review

"[A] twenty-first-century genius . . . Redniss is inventing a new literary genre. . . . The reader willing to put herself fully in Redniss's hands will be rewarded with a delicious feeling of being enveloped by a phenomenon that eclipses the chiming trivialities of daily life."—Elle

"Lends a graphic-novel-like allure to some of nature's most curious paradoxes."—Vogue

"Redniss is one of the most creative science writers of our time—her combination of beautiful artwork, reporting, and poetic prose brings science to life in ways that words alone simply cannot."—Rebecca Skloot

"Redniss combines her own dual punch of expressive art and impressive erudition to give an entirely new take on all that happens above our heads. This is an illuminated book that is also an illuminating one."—Adam Gopnik

"A strange and wonderful thing, the work of a first-class mind that refuses to submit to any categories or precedent."—Dave Eggers

"Beautiful and totally original."—Elizabeth Kolbert
About the Author
---
Lauren Redniss is the author of several works of visual non-fiction and the recipient of a MacArthur Foundation "genius grant." Her book Thunder & Lightning: Weather Past, Present, Future won the 2016 PEN/E. O. Wilson Literary Science Writing Award. Radioactive: Marie & Pierre Curie, A Tale of Love and Fallout was a finalist for the 2011 National Book Award. She has been a Guggenheim fellow, a fellow at the New America Foundation and the New York Public Library's Cullman Center for Scholars & Writers, and Artist-in-Residence at the American Museum of Natural History. She teaches at the Parsons School of Design in New York City.
Praise For…
---
"[An] aesthetically charged and deeply researched account . . . a wild rainstorm of a book, pelting the reader with ideas and inspiration."—Nature
 
"A gorgeous and illuminating illustrated study of weather in all its tempestuous variety . . . [Lauren] Redniss's combo of fact, folklore, and vibrant etched copperplate prints enthralls."—O: The Oprah Magazine
 
"Eerily beautiful . . . If weather is our favorite default conversational subject, [Redniss] takes anything but a default approach. Thunder & Lightning contains plenty of scientific explanation (including more than a few nods toward global warming), but also far-flung personal stories that illuminate the beauty, wonder and chaos inherent in the elements."—The New York Times
 
"Magical . . . Redniss has . . . shown us how human beings live with nature—fighting, coexisting, taming, predicting via leech barometer and radar and intuition. . . . She is, to use a contemporary word, a curator: arranging information with a distinct aesthetic and a point of view."—The New York Times Book Review
 
"[A] twenty-first-century genius . . . Lauren Redniss is inventing a new literary genre. The artist brings her intrepid reporting and sharp intelligence to subjects as wide-ranging as Marie Curie, gay soldiers in WWII, and now stormy weather. . . . [Redniss is] a reporter, a painter, a social historian, a biographer, and a feminist who creates stories and tableaux that are published as books, which are at once sexual and prim, grotesque and romantic, scientific and soft. . . . The reader willing to put herself fully in Redniss's hands will be rewarded with a delicious feeling of being enveloped by a phenomenon that eclipses the chiming trivialities of daily life."—Elle
 
"From Superstorm Sandy to the California drought, weather is a constant presence in our lives, shaping the way we think, feel—and vote. Lauren Redniss's latest, Thunder & Lightning: Weather Past, Present, Future, takes a deep dive into human efforts to grapple with the elements, with forays into mythology, commerce and politics. Combining etchings and text—the National Book Award–nominated author and artist designed her own font for the book—Thunder & Lightning lends a graphic-novel-like allure to some of nature's most curious paradoxes."—Vogue

"Lauren Redniss is one of the most creative science writers of our time—her combination of beautiful artwork, reporting, and poetic prose brings science to life in ways that words alone simply cannot. Thunder & Lighting is a fascinating meditation on how climate affects the earth's landscape and the lives inhabiting it, but also how the landscape of a book—the layout of its text, the images on its pages—impacts the telling of a story. This is an important book about a topic that couldn't be more important to us all."—Rebecca Skloot
 
"In Thunder & Lightning, Lauren Redniss combines her own dual punch of expressive art and impressive erudition to give an entirely new take on all that happens above our heads. This is an illuminated book that is also an illuminating one."—Adam Gopnik
 
"Lauren Redniss's Thunder & Lightning is such a strange and wonderful thing, the work of a first-class mind that refuses to submit to any categories or precedent. It's the way you wish science would always be taught—with a mix of stories and facts, legend and hard science."—Dave Eggers
 
"Beautiful and totally original."—Elizabeth Kolbert