Hurricane Season (Hardcover)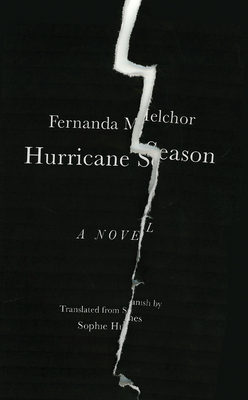 Staff Reviews
---
The local witch is found dead in a small town in Mexico. Why this happened, and everything leading up to it, is slowly unfurled by Melchor as she spins this deeply sinister tale of greed and violence, masterfully jumping between characters and viewpoints, widening the scope as the story morphs into something far, far uglier. At the book's heart is a portrait of desperation, one so seemingly inescapable it makes monsters out of so many, and destroys everything that doesn't succumb to it. Horrifying, stomach churning, and frequently dazzling, it was easily the best book I read in 2020.
— David
Description
---
The English-language debut of one of the most thrilling and accomplished young Mexican writers



Longlisted for the National Book Award

Shortlisted for the Booker Prize

Winner of the Internationaler Literaturpreis

New York Public Library Best Books of 2020

Chicago Public Library Best Book of 2020 
The Witch is dead. And the discovery of her corpse—by a group of children playing near the irrigation canals—propels the whole village into an investigation of how and why this murder occurred. Rumors and suspicions spread. As the novel unfolds in a dazzling linguistic torrent, with each unreliable narrator lingering on new details, new acts of depravity or brutality, Melchor extracts some tiny shred of humanity from these characters that most would write off as utterly irredeemable, forming a lasting portrait of a damned Mexican village.
Like Roberto Bolano's
2666 
or Faulkner's greatest novels, Hurricane Season takes place in a world filled with mythology and violence—real violence, the kind that seeps into the soil, poisoning everything around: it's a world that becomes more terrifying and more terrifyingly real the deeper you explore it.
About the Author
---
Fernanda Melchor, born in Veracruz, Mexico, in 1982, is widely recognized as one of the most exciting new voices of Mexican literature.

Sophie Hughes has translated such Spanish-language writers as Iván Repila, Laia Jufresa, Rodrigo Hasbún, José Revueltas, Giuseppe Caputo, Enrique Vila-Matas, and Alia Trabucco Zerán.
Praise For…
---
One of Mexico's most promising and prominent writers—Melchor writes of lives with specificity, with a crude recognition of their humanity that allows, if not for redemption or hope for those lives, at least some measure of peace for their dead. Virtuosic prose.
— Ana Cecilia - Bookforum

Hurricane Season condemns violence — especially sexual violence — by depicting it unflinchingly, in scenes and language that make Truman Capote and Cormac McCarthy seem tame. This is a novel that sinks like lead to the bottom of the soul and remains there, its images full of color, its characters alive and raging against their fate.
— Amanda Dennis - Los Angeles Review of Book

Fernanda Melchor's Hurricane Season is so strange, wild, and foul-mouthed that I almost missed the sharp critiques embedded in the story. A mix of drugs, sex, mythology, small-town desperation, poverty, and superstition, this novel spreads like a fungus from the dark center of the literary space where crime fiction and horror meet. Melchor is the witch and this novel is a powerful spell.

— Gabino Iglesias - NPR

Melchor's English-language debut is a furious vortex of voices that swirl around a murder in a provincial Mexican town. Forceful, frenzied, violent, and uncompromising, Melchor's depiction of a town ogling its own destruction is a powder keg that ignites on the first page and sustains its intense, explosive heat until its final sentence.
— Publishers Weekly

Hurricane Season remains a powerful experience for the way its cruelty becomes, improbably, and before our eyes, a form of radically intransigent egalitarianism.

— Sydney Review of Books

"A brutal portrait of small-town claustrophobia, in which machismo is a prison and corruption isn't just institutional but domestic, with families broken by incest and violence. Melchor's long, snaking sentences make the book almost literally unputdownable, shifting our grasp of key events by continually creeping up on them from new angles. A formidable debut."
— Anthony Cummins - The Guardian

A dazzling novel and the English-language debut of one of Mexico's most exciting new voices.
— Marta Bausells - The Guardian

Stomach-churning, molar-grinding, nightmare-inducing, and extraordinarily clear-eyed account of the ordinary horrors men inflict upon women. Melchor refuses to look away, refuses to indulge in fantasy or levity—even in the moments when the novel is laugh-out-loud funny. And lest the far-off reader think the horror is contained to the lives of others, Melchor repeatedly threads the reminders of the long reach of these crimes—and their causes—throughout the narrative.
— Lucas Iberico Lozada - The Nation

Hurricane Season is a Gulf Coast noir from four characters' perspectives, each circling a murder more closely than the last. Melchor has an exceptional gift for ventriloquism, as does her translator, Sophie Hughes, who skillfully meets the challenge posed by a novel so rich in idiosyncratic voices. Melchor evokes the stories of Flannery O'Connor, or, more recently, Marlon James's A Brief History of Seven Killings. Impressive

— Julian Lucas - The New York Times

This is the Mexico of Cormac McCarthy's Blood Meridian or Roberto Bolaño's 2666, where the extremes of evil create a pummeling, hyper-realistic effect. But the 'elemental cry; of Ms. Melchor's writing voice, a composite of anger and anguish, is entirely her own. 
— Sam Sacks - Wall Street Journal

Written with pain and enormous skill, in a rhythm at once tearing and hypnotic, Hurricane Season is an account of the wreckage of a forsaken Mexico governed by nightmarish jungle law. An important, brave novel by a writer of extraordinary talent, magnificently translated by Sophie Hughes.
— Alia Trabucco Zerán

Propelled by a violent lyricism and stunning immediacy, Hurricane Season maps out a landscape in which social corrosion acquires a mythical shape. This masterful portrayal of contemporary Mexico, so vertiginous and bewitching it pulls you into its spiritual abyss from the opening page, is brilliantly rendered into English by Sophie Hughes. Fernanda Melchor is a remarkable talent.
— Chloe Aridjis

Hurricane Season is a hell of a force to be reckoned with.

— Claire-Louise Bennett

Melchor
wields a sentence like a saber. She never flinches in the bold, precise strokes
of Hurricane Season. In prose as precise and
breathtaking as it is unsettling, Melchor has crafted an unprecedented novel
about femicide in Mexico and how poverty and extreme power imbalances lead to
violence everywhere.
— Idra Novey, author of Those Who Knew

Hurricane Season is an unrelenting torrent of violence, barbarity, recrimination, sex, greed, trauma, corruption, neglect, fear, lust, deceit, baseness, and the insidiousness of evil. The young Mexican author writes with unflinching ferocity and her propulsive prose is simultaneously scintillating and suffocating. Hurricane Season brings to mind other darkly delirious works of (semi)fiction like Rafael Chirbes' On the Edge, Bolano's 2666, or even the novels of Santiago Gamboa. Inspired by a story Melchor encountered in a local newspaper, Hurricane Season offers a testimonial of our increasingly depraved age of disconnection and disposability. A remarkable, indelible work of art.

— Jeremy Garber, Powell's Books

Fernanda Melchor is part of a wave of real writing, a multi-tongue, variform, generationless, decadeless, ageless wave, that American contemporary literature must ignore if it is to hold on to its infantile worldview.
— Jesse Ball

Hurricane Season is an intense and hypnotic literary experience, where physical violence and the hostility of the landscape form a microcosm of helplessness. Fernanda Melchor's narrative maturity is powerful: a book that leaves you shaken.

— Mariana Enríquez

A bravura performance, teeming with life and fury. Melchor takes a single, brutal act and explodes it, giving voice to the legacies of tragedy and violence within, and daring us to look away.
— Sam Byers

Fernanda
Melchor not only writes with the furious power that is required by the issues
at hand, but on each page she shows that she has an eye and ear for it, as well
as a sharpness rarely seen in our literature.
— Yuri Herrera

Mexican writer Fernanda Melchor's subject is the inner life of misogynist violence—for both perpetrators and victims—and the collective mythmaking that sanctions such crimes or makes them disappear... The novel is a Gulf Coast noir from four characters' perspectives, each circling the murder more closely than the last. All share a connection to the central suspect, Luismi, a dreamy, drug-addled ex-lover of the Witch — who, it turns out, is not some dreadful creature but a trans woman who practices traditional medicine and throws clandestine parties. Their relationship serves as a Rorschach test for Melchor's narrators, whose actions reveal not only the details of the crime but the fears, resentments and unacknowledged lusts that condense around it like a distorting mist....She creates a narrative that not only decries an atrocity but embodies the beauty and vitality it perverts. Impressive.
— Julian Lucas - The New York Times

Fernanda Melchor has a powerful voice, and by powerful I mean unsparing, devastating, the voice of someone who writes with rage, and has the skill to pull it off.
— Samanta Schweblin

Brutal, relentless, beautiful, fugal, Hurricane Season explores the violent mythologies of one Mexican village and reveals how they touch the global circuitry of capitalist greed. This is an inquiry into the sexual terrorism and terror of broken men. This is a work of both mystery and critique. Most recent fiction seems anemic by comparison.

— Ben Lerner

Intertwined voices spiral around the mysterious murder of The Witch in an isolated tropical town, revealing its depravities, secrets, family tragedies, violence, accumulating into a narrative hurricane that howls and devastates but also subsides into renewed light. Hurricane Season—a dark fable that captures the horrors and despair of contemporary Mexico as no other novel has—is already widely regarded as a contemporary Mexican classic.

— Francisco Goldman

Hurricane Season is a potent brew, an incantatory simmer of violence, sin, and envy, a thick, salty, blood-dark drink. Melchor dares her read to peer right into the story's roiling heart as she peels back village lusts and jealousies layer by layer, excavating a monstrous turbulence dwelling beneath, grotesque and darkly beguiling.

— Alexandra Kleeman

Hurricane Season is an intense and hypnotic literary experience, where physical violence and the hostility of the landscape for a microcosm of helplessness. Fernanda Melchor's narrative maturity is powerful: a book that leaves you shaken.
— Mariana Enrqiuez

Fernanda Melchor not only writes with the furious power that is required by the issues at hand, but on each page she shows that she has an eye and ear for it, as well as a sharpness rarely seen in our literature.
— Yuri Herrera