Counternarratives (Paperback)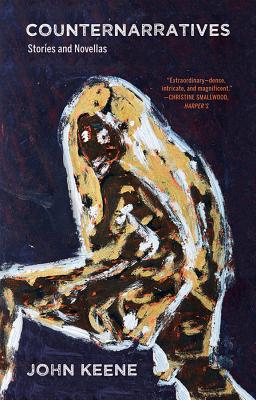 Staff Reviews
---
As the name suggests, this is a collection of formally and politically radical interventions in the narration of black history, from 17th-century colonial bookkeeping to the characters of Mark Twain. Keene works with constricting historical detail; at the level of style, this evokes certain documentary hallmarks of a colonial literature, ala Defoe perhaps. Yet vectors of subjective freedom cut across these sordid genealogies with the force of epiphany, troubling any claim to objectivity in retrospect; such that a righteous, revengeful first-hand account of the martyrdom of a Portuguese priesthood, dated 1630, can freely quote Audre Lorde; or that a multi-vocal novella may unfurl as a footnote on a single paragraph from a history textbook. An astonishing book on the uses and abuses of history, urgently pertinent to now.
— Cam
John Keene challenges the accuracy of the archive by using fiction as a tool to subvert oppressive historical narratives. This collection spans centuries and continents to weave stories that function as an examination of the Western literature canon for its lack of Black subjectivities. In its strongest moments (see "Carmel" and "The Aeronauts"), Counternarratives is magic.
— Caelan
Description
---
Now in paperback, a bewitching collection of stories and novellas that are "suspenseful, thought-provoking, mystical, and haunting" (Publishers Weekly)
Ranging from the seventeenth century to the present, and crossing multiple continents,
Counternarratives
draws upon memoirs, newspaper accounts, detective stories, and interrogation transcripts to create new and strange perspectives on our past and present. "An Outtake" chronicles an escaped slave's take on liberty and the American Revolution; "The Strange History of Our Lady of the Sorrows" presents a bizarre series of events that unfold in Haiti and a nineteenth-century Kentucky convent; "The Aeronauts" soars between bustling Philadelphia, still-rustic Washington, and the theater of the U. S. Civil War; "Rivers" portrays a free Jim meeting up decades later with his former raftmate Huckleberry Finn; and in "Acrobatique," the subject of a famous Edgar Degas painting talks back.
About the Author
---
John Keene is a former member of the Dark Room Writers Collective, a graduate fellow of Cave Canem, and the recipient of many awards and fellowships—including a MacArthur Genius Award, the Windham-Campbell Prize, and the Whiting Foundation Prize for fiction. Keene teaches at Rutgers.
Praise For…
---
Counternarratives is an extraordinary work of literature. John Keene is a dense, intricate, and magnificent writer.

— Christine Smallwood

Of the scope of William T. Vollmann or Samuel R. Delany, but with a kaleidoscopic intuition all its own, Counternarratives is very easily one of the most vividly imagined and vitally timed books of the year. I haven't felt so refreshed in quite a while as a reader.

— Blake Butler

Keene exerts superb control over his stories, costuming them in the style of Jorge Luis Borges. Yet he preserves the undercurrent of excitement and pathos that accompanies his characters' persecution and their groping toward freedom.
— Sam Sacks