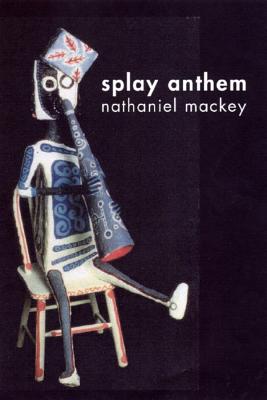 Staff Reviews
---
The rhythm and cadence of these poems will burn inside you. Mackey's words are tantalizing - they tempt the tongue, trip the lips. Subway readers beware, never have I felt such an uncontrollable urge to shout aloud from the pages of the book I'm reading. And if that's not enough of an incentive, all that language goes shrieking and skidding into, I swear, the spookiest, speediest, most compelling vision of the afterlife you're ever gonna get. Lap it up.
— Laurel
Description
---
In a stunning new collection of poems of transport and transcendence, African-American poet Nathaniel Mackey's "asthmatic song of aspiration" scuttles across cultures and histories—from America to Andalucía, from Ethiopia to Vienna—in a sexy, beautiful adaptive dance.
Part antiphonal rant, part rhythmic whisper, Nathaniel Mackey's new collection of poems,
Splay Anthem
, takes the reader to uncharted poetic spaces. Divided into three sections—"Braid," "Fray," and "Nub" (one referent Mackey notes in his stellar Introduction: "the imperial, flailing republic of Nub the United States has become, the shrunken place the earth has become, planet Nub")—
Splay Anthem
weaves together two ongoing serial poems Mackey has been writing for over twenty years, "Song of the Andoumboulou" and "Mu" (though "Mu no more itself / than Andoumboulou").
In the cosmology of the Dogon of West Africa, the Andoumboulou are progenitor spirits, and the song of the Andoumboulou is a song addressed to the spirits, a funeral song, a song of rebirth.
"
Mu
,"
too, splays with meaning:
muni
bird, Greek
muthos
, a Sun Ra tune, a continent once thought to have existed in the Pacific. With the vibrancy of a Mira painting, Mackey's poems trace the lost tribe of "we" through waking and dreamtime, through a multitude of geographies, cultures, histories, and musical traditions, as poetry here serves as the intersection of everything, myth's music, spirit lift.
About the Author
---
Nathaniel Mackey was born in Miami, Florida in 1947. He is the author of several books of poetry, fiction, and criticism, and has received many awards for his work, including the National Book Award in poetry for Splay Anthem, the Stephen Henderson Award from the African American Literature and Culture Society, and the Bollingen Prize from the Beinecke Library at Yale University. Mackey is the Reynolds Price Professor of English at Duke University, and edits the literary journal Hambone.

Praise For…
---
... a mesmerizing unfolding of language as mus(e)ical thinking.

Mackey's writing rewards close reading with resonances of real experience.

Mackey's rampant alliteration and his reconfiguration of words on the phonemic and morphemic level create a sonic atmosphere that enacts a state of jazz.

Mackey is a sure and skilled and authoritative composer / compositor...The workings of his words indicate an uncontestable care and loving respect for the most subtle and resonant nuances of language.