Ghastly Ghosts (Hardcover)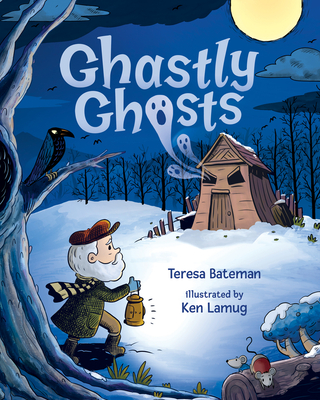 Unavailable, our apologies.
Sorry, We Can Not Obtain this Book at This Time
Description
---
Old Dave inherits a lonely old house from his uncle—a nice enough place, if a bit lonely. One cold night he hears a voice: Ghastly ghosts in the old coal shed! At first he tries to ignore it, but he hears it again and again—Ghastly ghosts in the old coal shed! And when the fireplace runs out of coal, Dave has no choice but to brave the dreaded coal shed...and whatever dwells within. But Old Dave's got an idea that just might work out for him AND the spirits.
About the Author
---
Teresa Bateman is the author of many books for children, including Paul Bunyan vs. Hals Halson: The Giant Lumberjack Challenge!, The Bully Blockers Club, and April Foolishness. She is a children's librarian and lives in Washington state. Ken Lamug made comics and books from scraps of used copy paper as a boy. He returned to his creative roots as an adult and has been having loads of fun making books and comics for all ages. He lives in Nevada.
Praise For…
---
"This is a great rhyming read-aloud, especially if the reader's voice embraces the drama... A delicious scare for audiences ready for chills." —Kirkus Reviews
"Dave, a gentle man with a white beard, moves into his deceased uncle's cabin and finds it a lonely place. He soon hears moans, groans, and wails, noises that he attributes to mice or drafty windows. However, voices shrieking "Ghastly ghosts in the old coal shed!" are harder to explain away. Lamug's artwork does a marvelous job of showing scenes that are off-kilter on one page and then normal the next. For instance, the tilted windows and open door of the dilapidated old coal shed give it a menacing visage the closer Dave gets to revealing its secrets, but the shed looks normal once the ghosts inside are revealed to be just as lonely as the man himself. The text seems to be a hair smaller than in many picture books for this age group, and it is tucked away in the beams of the cabin, the sloped ceiling of the attic, and in the pale yellow glow of the moon. The small size and location of the text practically dares readers to lean in closer to the artwork, making it all the more jarring when a large, bold, stylized typeface is suddenly used to convey the ghosts' shrieks. Text placing is spot-on throughout, up until the last page where the text subtly leads readers' eyes to the coal shed, no longer looking carnivorous. The final scene is heartwarming with Dave and the ghosts enjoying a fun time by the fire, lonely souls who have found one another. VERDICT Bateman plays with the frightening horror tropes of isolation and creepy old cabins but gives them a child-friendly spin in the end. Recommended for anyone who wants an eerie tale with a cheery ending." —School Library Journal
"After inheriting a drafty cottage on a lonely hill, Old Dave does his best to turn his "new" house into a home. He embarks on a series of repairs that might ruffle someone with a more lively imagination. A loud moan from the bathroom? Probably old pipes. A wail from the cellar? A broken windowpane is surely to blame. Old Dave explains away all the creepy noises, but when it's time to go to bed, he hears a voice clearly say, "Ghastly ghosts in the old coal shed!" In that moment the fireplace's flames go out, forcing Old Dave to gather his courage and head to the haunted shed for more coal, where it's revealed that ghosts aren't necessarily always out to scare you. This gentle ghost story, with a white-bearded protagonist who could easily stand in for Santa, is a good choice for young readers looking for light suspense but no real frights. Cartoonish illustrations underscore the book's ultimate message that unlikely friendships can create a warm home." —Booklist