Won Ton: A Cat Tale Told in Haiku (Hardcover)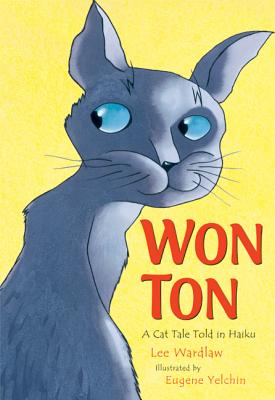 List Price: $18.99
Our Price: $17.99
(Save: $1.00 5%)
On Our Shelves Now - Available to Ship to Your Home
Description
---
Nice place they got here.
Bed. Bowl. Blankie. Just like home!
Or so I've been told.
Visiting hours!
Yawn. I pretend not to care.
Yet -- I sneak a peek.
So begins this beguiling tale of a wary shelter cat and the boy who takes him home.
Sometimes funny, sometimes touching, this adoption story, told entirely in haiku, is unforgettable.
About the Author
---
Lee Wardlaw has published more than two dozen award-winning books for young readers, including Won Ton: A Cat Tale Told in Haiku and Red, White, and Boom! She lives in Santa Barbara, California.

Eugene Yelchin is the author and illustrator of The Haunting of Falcon House, Arcady's Goal, and the Newbery Honor Book Breaking Stalin's Nose. He has also illustrated several books for children, including Crybaby, Who Ate All the Cookie Dough?, and Won Ton. He lives in California with his wife and children.
Praise For…
---
"Sometimes the full savor of a book only comes through silent absorption. That is manifestly the case with 'Won Ton: A Cat Tale Told in Haiku'…Children old enough to read will get the full force of the harmonious combination of Lee Wardlaw's wry verse and Eugene Yelchin's witty illustration." —Wall Street Journal
"From the front cover on, this nameless shelter cat steals the show, with wide eyes, a sinewy body and a blue-gray coat....The charm of the text is that we see everything anew, from the cat's perspective." —Chicago Tribune
"Gloriously illustrated by Eugene Yelchin, the story is a beguiling tale of a wary shelter cat and the boy who takes him home. It's an adoption story that's funny, touching, visually exciting and unforgettable." —Santa Barbara Family Life
"The poignant story of a shelter cat finding a forever home unfolds in haiku verse in this funny, lovely and original picture book…offering a beguiling mix of humor…and emotion--along with a painless lesson in the creative possibilities of this form of poetry." —Buffalo News
"Perfect pussycat poetry for anyone who has ever loved a shelter cat." —Kirkus Reviews, STARRED REVIEW
"[A]n unforgettable character in a shelter cat whose veneer of cynical toughness masks his vulnerability. Won Ton's sweetly humorous story will steal the hearts of readers young and old." —School Library Journal, STARRED REVIEW
"Both the tightly constructed lines and elegant, playful illustrations unerringly imagine a cat's world, including the characteristic feline seesaw between aloof independence and purring, kneading adoration…[A] wry, heartwarming title that's sure to find wide acceptance in the classroom and beyond." —Booklist, STARRED REVIEW
"A surprisingly powerful story in verse." —Publishers Weekly