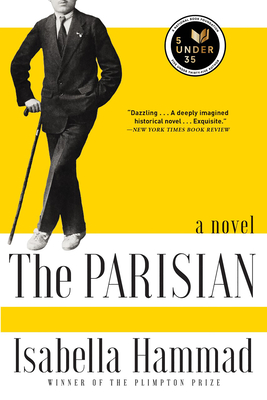 $18.00
On Our Shelves Now - Available to Ship to Your Home
Staff Reviews
---
I'll admit, I'm a bit of a sucker for sprawling historical novels (although this only spans about twenty years), but I'm not exaggerating in saying that it's one of the best I've ever read. Whether you're a sucker for historical fiction like me, or are a lover of decadent, thoughtful prose and characters, whatever the topic may be. But the topic is yet another point in favor of this wonderful book: it's about Palestine and its people during the British mandate era, and this Palestinian perspective on history is sorely underrepresented in English. Hammad is a ridiculously talented writer, and this is definitely a debut not to be missed.
— Jacob R
Description
---
A masterful debut novel by Plimpton Prize winner Isabella Hammad, The Parisian illuminates a pivotal period of Palestinian history through the journey and romances of one young man, from his studies in France during World War I to his return to Palestine at the dawn of its battle for independence. Lush and immersive, and devastating in its power, The Parisian is a tour de force from a dazzling new voice in fiction.
About the Author
---
ISABELLA HAMMAD was born in London. She won the 2018 Plimpton Prize for Fiction for her story "Mr. Can'aan" and a 2019 O. Henry Prize. The Parisian is her first novel.