The Cars of Pullman (Hardcover)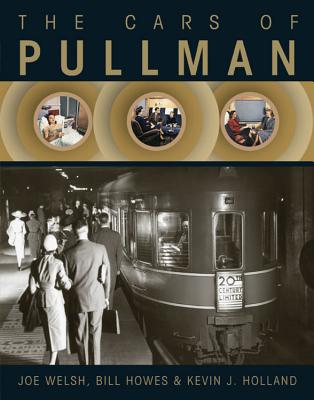 Unavailable, our apologies.
Description
---
One of America's greatest business enterprises, the Pullman Company provided outstanding service aboard a vast fleet of railroad passenger cars that could be found in almost every nook and cranny of the United States. This illustrated history examines Pullman's diverse fleet, from its spectacular custom-built wooden cars of the nineteenth century to steel heavyweight cars in the prewar years and on into the lightweight streamlined era.
Pullman cars are a tribute to a hard-working generation of men and women who worked to bring the coasts of the United States together efficiently and in style. Author Joe Welsh includes period photos, many in rare color, as well as car diagrams and ads that help trace the development, composition, and evolution of the historically and culturally significant Pullman fleet, including the gamut of sleeper, parlor, and restaurant cars.
Take an interesting look into the time period that relied on train cars, as well as the classic style of the cars themselves. This is a fitting tribute to the former cultural icons aboard which strode giants of American life, such as Babe Ruth and Clark Gable, as well as first-time travelers from small-town America.
About the Author
---
Joe Welsh is a regular contributor to Trains and Classic Trains magazines and has appeared on the History Channel. He is the author of 12 books including the critically acclaimed Travel by Pullman, co-authored with William F. Howes, Jr. He resides in Auburn, Washington.Bill Howes\u2019 is the former director of The Pullman Company and a former vice-president of the Baltimore & Ohio Railroad. Mr. Howes is the co-author of Travel by Pullman and vice-president of the Railway & Locomotive Historical Society. He lives in Florida.Kevin J. Holland is a freelance writer, editor, and publications designer based in Burlington, Ontario. He has written and produced more than 15 books and is a regular contributor to Classic Trains.