The Three-Body Problem (Remembrance of Earth's Past #1) (Hardcover)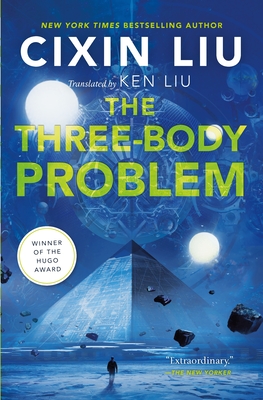 $26.99
In Stock at Publisher - Available to Ship to Your Home
Staff Reviews
---
In the midst of the Chinese Cultural Revolution, a young scientist sends a message into the cosmos that brings a desperate, far more advanced civilization hurtling toward the Earth, and humanity begins planning for a Doomsday Battle that won't happen for four hundred years. There are a million reasons to love Liu's storytelling in this first book of his Three-Body trilogy, but his ability to keep the pace and tension humming while also keeping the aliens almost entirely off-stage utterly blew my mind.
 
— Kate
Description
---
Experience Cixin Liu's award-winning and bestselling masterpiece, The Three Body Problem.
A secret military group sends signals into space in hopes of establishing contact with aliens—and succeeds.
Picking up their signal is an alien civilization on the brink of destruction who now readies to invade Earth.
News of the coming invasion divides humanity like never before. Some want to help the superior beings take over a world they see as corrupt. Others prepare to fight the invasion at all cost.
The Three Body Problem begins a ground-breaking saga of enormous scope and vision.
"The War of the Worlds for the twenty-first century . . . Packed with a sense of wonder."
—The Wall Street Journal
The Remembrance of Earth's Past Trilogy
The Three-Body Problem
The Dark Forest
Death's End
Other Books
Ball Lightning (forthcoming)
About the Author
---
CIXIN LIU is the most prolific and popular science fiction writer in the People's Republic of China. Liu is an eight-time winner of the Galaxy Award (the Chinese Hugo) and a winner of the Chinese Nebula Award. Prior to becoming a writer, he worked as an engineer in a power plant. His novels include The Three-Body Problem, The Dark Forest, and Death's End.

Ken Liu's fiction has appeared in F&SF, Asimov's, Analog, Strange Horizons, Lightspeed, and Clarkesworld, among other places. He is the author of The Grace of Kings, and has won a Nebula, two Hugos, a World Fantasy Award, and a Science Fiction & Fantasy Translation Award, and been nominated for the Sturgeon and the Locus Awards. He edited and translated the Chinese science fiction anthology Invisible Planets. He lives near Boston with his family.
Praise For…
---
"Wildly imaginative." —President Barack Obama
"The War of the Worlds for the 21st century… packed with a sense of wonder." – Wall Street Journal
"A breakthrough book . . . a unique blend of scientific and philosophical speculation, politics and history, conspiracy theory and cosmology." ?George R. R. Martin
"Tackles politics, philosophy and virtual reality in a story that moves at a thriller's pace" – The Washington Post
"Evokes the thrill of exploration and the beauty of scale." – The New Yorker
"Stunning, elegant…a science-fiction epic of the most profound kind." NPR
"Remarkable, revelatory and not to be missed." —Kirkus Reviews, starred review, on The Three Body Problem
"A must-read in any language." —Booklist, on The Three Body Problem
"The best kind of science fiction, familiar but strange all at the same time." —Kim Stanley Robinson, on The Three Body Problem
Coverage from NPR