The Strange and Beautiful Sorrows of Ava Lavender (Paperback)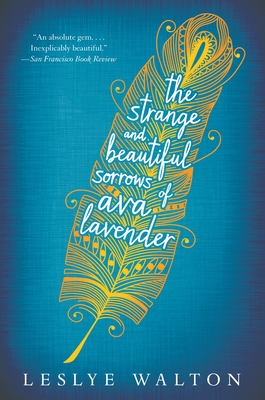 $11.99
On Our Shelves Now - Available to Ship to Your Home
Staff Reviews
---
Summary: A layered story of three generations leading up to the birth of a girl born with bird wings, and all of the wonder and angst that comes with them. Why you'll love this, short version: Magical realism isn't for everyone, but this book is. Why you'll love this, long version: I usually loathe magical realism (people can't be chairs, Aimee Bender!!) but I truly, truly loved Ava Lavender. This story of three generations of women recalls the sweeping family saga of Middlesex, but without that pesky incest and extraneous sex organs. Kidding aside, I find myself finally understanding what I thought were bookseller cliches because of this book: I intentionally slowed down at the end of the story to make it last longer, I'm wondering how much time I should give myself before I reread it, and I'm picturing the readers for this book and testing out in my head what I'm going to say to them. I am actively jealous of these customers because they have the experience of reading Ava Lavender for the first time to look forward to.  I can't get over this book- but why would anyone want to, anyway?
— Cristin (Children's & YA Buyer)
Description
---
"An entrancing and sumptuously written multigenerational novel wrapped in the language of fable, magical realism, and local legend." —Publishers Weekly (starred review)

Foolish love appears to be the Roux family birthright, an ominous forecast for its most recent progeny, Ava Lavender. Ava—in all other ways a normal girl—is born with the wings of a bird. In a quest to understand her peculiar disposition and a growing desire to fit in with her peers, sixteen-year old Ava ventures into the wider world, ill-prepared for what she might discover and naive to the twisted motives of others.
About the Author
---
Praise For…
---
[A]n entrancing and sumptuously written multigenerational novel wrapped in the language of fable, magical realism, and local legend. ... Walton's novel builds to a brutal but triumphant conclusion. It's a story that adults and teenagers can appreciate equally.
—Publishers Weekly (starred review)

Walton's novel is both strange and beautiful in the best of ways. ... This multigenerational tale examines love and considers the conflicting facets of loving and being loved — desire, despair, depression, obsession, self-love, and courage. ... It is beautifully crafted and paced, mystical yet grounded by universal themes and sympathetic characters. A unique book, highly recommended for readers looking for something a step away from ordinary.
—School Library Journal (starred review)

This love story by debut YA author Leslye Walton is as rare and perfect as Mona Lisa's smile.
—Ellen Klein, Hooray for Books! (Alexandria, VA)

It is just as the title suggests, both strange and beautiful, and should be read by every lover of books, regardless of their age.
—Becky Quiroga Curtis, Books & Books (Coral Gables, FL)

This remarkable, magic-laced family history continues and spreads to other members of Ava's Seattle neighborhood to produce a gauzy narrative of love and loss... [An] intentionally artful tale.
—Bulletin of the Center for Children's Books

This magical lyrical story is a beautifully written novel with much to offer readers. ... Exquisite.
—Library Media Connection

[Ava's voice] is a beautiful voice—poetic, witty, and as honest as family mythology will allow. There are many sorrows in Walton's debut, and most of them are Ava's through inheritance. Readers should prepare themselves for a tale where myth and reality, lust and love, the corporal and the ghostly, are interchangeable and surprising.
—Booklist

The story's language is gorgeous.
—Kirkus Reviews

In a sweeping intergenerational story infused with magical realism, debut author Leslye Walton tethers grand themes of love and loss to the earthbound sensibility of Ava Lavender as she recollects one life-altering summer as a teenager. ... Walton presents challenges that most teens will hopefully never face. She writes of love, betrayal, birth, murder, affection and rape—and wraps them in prose so radiant that readers feel carried by Ava's narrative. The heroine's humor and wisdom as she looks back at her life let us know that she is a survivor.
—Shelf Awareness (starred review)

This. Book. Stole. Our. Hearts. It unfolds like a hauntingly beautiful dream (or is it a gorgeous nightmare?)... Strange and beautiful... violent and gorgeous. You gotta read it. A must-read for fans of beautiful monsters like Miss Peregrine's.
—Justine Magazine

Using detailed imagery and an almost mythical storytelling style, teenage Ava tells the history of four generations of her family. ... [Teens] willing to enter Ava's world on its own terms will find themselves richly rewarded.
—BookPage

[Ava] navigates through her family's history—along with her own—with a lyrical prose that maintains a whimsical and traditional fairy tale feel despite the sorrowful themes. ... Overall, I'm both impressed and dazzled by Leslye Walton's debut. "The Strange and Beautiful Sorrows of Ava Lavender" is a novel that has so many layers that it demands your attention. Written with the finesse of a seasoned writer, it's stunning, magical, strange and, of course, very beautiful.
—Tor.com

First-time novelist Leslye Walton has crafted a beautiful, haunting family history that spans generations and continents. The story's narrator, Ava, is achingly believable. ... "The Strange and Beautiful Sorrows of Ava Lavender" is not a typical love story. Walton's tale, by turns tragic and comic, expects readers to explore the big questions love raises — why do we love the people we love, and why do we hold on to love that hurts?
—The Times-News

[This novel] should be remembered for the devastatingly beautiful character of Ava Lavender and how she depicts just what it is to be different.
—The Guardian

Foolish love and flight are Ava's family inheritance. Magical realism colors this tale of a girl normal but for the wings with which she was born.
—San Francisco Chronicle

The characters are rich and familiar, and Walton does whimsy with a healthy dose of melancholy and tragedy. The storytelling is completely beautiful... A particularly toothsome and pleasurable read.
—Toronto Globe and Mail

In a swirl of hauntingly realistic prose and magical realism, "Ava Lavender" explores the depths of beauty and terror and the heart's capacity to rise above.
—Richmond Times Dispatch

"The Strange and Beautiful Sorrows of Ava Lavender" will appeal to both adult and young readers who love magical realism, fantasy, and fairy tales. It is 'magical realism at its best,' noted Tor... Strange and sorrowful, the novel is an uncommon debut — exquisitely written and relayed with sophistication.
—Bookmarks

The Strange and Beautiful Sorrows of Ava Lavender by Leslye Walton - It's set in the real world, but it transports you to some other universe. Not at all about travel, this favorite of mine from 2014 is a beautiful, heart-wrenching, charming story. Read if you're stuck on a family trip to somewhere commonplace and you want to escape to somewhere magical.
—Kindle Daily Post (blog)