The Cheap Bastard's Guide to New York City: A Native New Yorker's Secrets of Living the Good Life--For Free! (Paperback)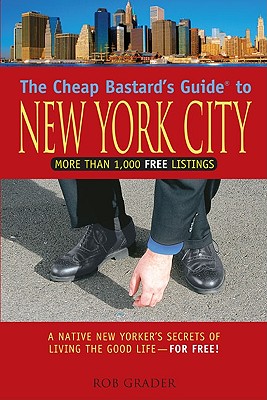 Unavailable, our apologies.
Sorry, We Can Not Obtain this Book at This Time
Description
---
Completely revised and updated, stuffed with attitude and humor, The Original Cheap Bastard reveals even more great finds for visitors and natives alike: How to land a low-cost apartment in a luxury building--without paying a broker's feeWhere to find half-price meals and free food, including coffee, sushi, and pub grubHow to gain free entrance to plays, concerts, museums, and television tapingsWhere to find free classes in anything from yoga to small business developmentWhen and where to find great furnishings in other people's trashHow to get a free haircut, color treatment, manicure, or low-cost massage
About the Author
---
Native New Yorker Rob Grader is a writer and producer for public radio and television and is an actor on stage and TV. A graduate of the Institute for Advanced Theater Training at Harvard University, he has performed at regional theaters throughout the country, on popular dramas, sitcoms, and soaps, and in national commercials. He lives in New York City.
Praise For…
---
"The last word on living well and cheaply in the Big Apple--and no, it is not an oxymoron."
--June Sawyers, Chicago Tribune
"A penny-pincher's nirvana—it's as if we wrote it!"
—Arthur Frommer's Budget Travel Magazine "A thoroughly impressive roundup of freebies and cheapies found throughout the  boroughs."
—New York Post "Grader hilariously dissects the city to come up with his innovative money savers."
—John Deiner, The Washington Post